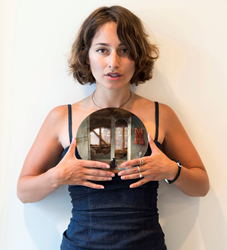 Both artists' intent is epic, but equally rewarding when viewed intimately: Miniature and Majestic.
Hallandale Beach, FL (PRWEB) November 04, 2014
Two very different artists open dual solo shows at Sirona Fine Art in South Florida. They continue the mission of Sirona's gallery to display the broad spectrum of Contemporary Representational art by those who have mastered the techniques and skills of their chosen mediums, while reflecting their personalities and the world around them. The title "Miniature and Majestic" was chosen to exhibit aspects of both artists. Dina Brodsky's tiny, intimate oil paintings depict entire worlds and implied narratives within few inches of painted surface; they are at the same time miniature in size while majestic in scope. Wesley Wofford's sometimes-massive bronze works range dramatically in scale, yet if one steps in close to examine their intricate surface textures and subtle curves, it is equally rewarding in micro observation. Both of these artists could equally be described as Majestic in Miniature, the reverse of the show's title, for these reasons.
Dina Brodsky was born in Belarus and came to America at the age of 8. Studying at the University of Massachusetts, she intensified her academic painting studies at the New York Academy of Art. Dina Brodsky employs masterful, classical skills of realistic painting that render, in precise detail, light and shadow, vivid and lucid visions of memory and nostalgia, wholly created from her own imaginings. These meticulous, miniature oils present evidence of richly lived moments, now documented by vacant rooms, empty spaces, and open doorways long since traversed. Brodsky has achieved the task of creating a body of work that looks like no other working artist.
Wesley Wofford's distinctive sculptures are infused with academic discipline and tradition, combined with the expressive freedom and force of emotive abstractionist elements. Whether giving form to grand themes and concepts, or representing a specific portrait or animal forms, Wofford's personality and hand is visibly present in the surface textures and compositional displays of his complex, thoughtful bronzes. Wofford has been the recipient of both an Oscar and an Emmy, utilizing his design sense and sculptural abilities for film prosthetics.