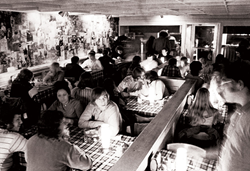 "Pizza is such an integral part of the American experience," Steve Green said. "We wanted to commemorate its role in our culture.
Oxford, MS (PRWEB) November 02, 2014
Ten legendary pizzerias were recently inducted into the Pizza Hall of Fame (http://www.PizzaHallofFame.com), which celebrates America's oldest and most beloved pizzerias.
Founded by PMQ Pizza Magazine, the pizza industry's No. 1 trade publication, the Pizza Hall of Fame celebrates the rich cultural history of American pizza and pays homage to perennially popular U.S. pizzerias that have been in business for 50 years or longer.
Recent inductees from the northeastern United States have included DeLucia's Brick Oven Pizza in Raritan, New Jersey; Savo's Pizza & Family Restaurant in Pittston, Pennsylvania; and Pica's Italian Restaurant in Upper Darby, Pennsylvania.
Inductees from the Midwest have included Stillwater, Oklahoma-based Hideaway Pizza, with 15 locations in the Tulsa and Oklahoma City areas; Fricano's Pizza Tavern, founded in Grand Haven, Michigan, with four additional locations in Michigan; and Valentino's, founded in Lincoln, Nebraska, with dozens of stores throughout the Midwest.
Inductees from the West Coast region include Mary's Pizza Shack, which originated in Boyes Hot Springs, California, and expanded to nearly 20 locations around the state; Shakey's Pizza, the Sacramento-based chain with locations in California, Washington, Hawaii and Alabama; and Venice Pizza House in San Diego.
Frankie's Pizza, Miami's oldest pizzeria, represents the South in the current crop of Pizza Hall of Fame inductees.
Conceptually, the Pizza Hall of Fame has existed for nearly 10 years, since PMQ Pizza Magazine publisher Steve Green inducted Lombardi's Pizza on November 1, 2005. Lombardi's, a Manhattan mainstay that's considered the oldest pizzeria in the country, opened its doors in 1905 and received the first-ever Pizza Hall of Fame membership plaque as part of its 100th anniversary celebration.
The Pizza Hall of Fame website was launched this October in honor of National Pizza Month. All pizzerias that are listed on the site as Pizza Hall of Fame members have been featured in PMQ's "Pizza Hall of Fame" section (formerly called "Time Capsule"). There are currently several dozen inductees featured on the website with more entries to come.
"Pizza is such an integral part of the American experience," Green said. "We wanted to commemorate its role in our culture. Every pizzeria in the Pizza Hall of Fame—and each one that will soon be inducted—is a local landmark. These pizzerias are more than restaurants—they are institutions in their community."
PMQ Pizza Magazine is the leading national trade publication for the pizza restaurant industry. The November issue features Jay Jerrier of Il Cano Rosso and Zoli's New York Pizza Tavern fame. See the digital edition and for more information visit http://www.pmq.com.