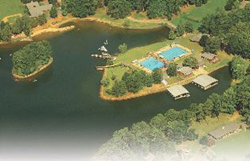 This is the modern-day equivalent of the ancient vision quest, providing opportunities for teens to commune with nature and experience their personal best
Charlotte, NC (PRWEB) October 31, 2014
Juggling busy schedules, coping with body image issues, dealing with complicated relationships, and making important career decisions – no, these are not the worries of a forty-year-old adult. According to research performed by the Johns Hopkins Bloomberg School of Public Health, these are very common stressors that plague teenagers today. High school presents an incredibly pivotal time for youths as they mature into adulthood. In partnership with Riley's Catch and Elevation Church, the YMCA of Greater Charlotte has created a new platform to guide teens through this critical transition, offering them tools to lead healthy, purposeful lives.
From Friday, November 21 through Sunday, November 23, the "Life of Impact Leadership Experience" will be held at YMCA Camp Thunderbird in Lake Wylie, South Carolina. Unique to other youth leadership retreats that are academic or classroom-based, teens will be encouraged to hone their leadership skills through high energy, outdoor adventures including zip lining, archery, riflery, creative arts and other team-building adventures. The immersion-based program leverages the outdoor experience to help teens develop self-confidence, integrity, team work, critical-thinking and leadership skills in a fun, diverse, faith-based setting where they will be encouraged to build relationships with other teens. Provided through the YMCA, the program will welcome a diverse group of high school students from across the region, broadening the scope of connection for all participants.
"This is the modern-day equivalent of the ancient vision quest," quips Jill Moore, Executive Director of YMCA Camp Thunderbird. "It's not about teaching – it's about providing an opportunity for teens to experience their personal best in a variety of circumstances. We'll have them unplug from technology so they can fully commune with nature and connect with others. It will be an experience they'll never forget."
Through its programs and caring adult mentors, YMCA Camp Thunderbird has been helping teens discover and develop their potential for over 75 years. Yet, the genesis for the Life of Impact Leadership Experience began in 2013 when Tom and Lisa Laymon hosted an event at YMCA Camp Thunderbird on behalf of their nonprofit, Riley's Catch. Founded in memory of their son who was tragically killed in 2012, Riley's Catch exists to empower students to live greater lives by using the outdoors in building stronger hearts, minds, and bodies. Upon hearing Riley's story and the mission of Riley's Catch, Moore recognized that Laymon's shared the YMCA's vision to nurture youth potential. In collaboration with Elevation Church and Riley's Catch, the YMCA of Greater Charlotte conceptualized the Life of Impact Leadership Experience. "Meeting the Laymon's at YMCA Camp Thunderbird was a gift of divine intervention," beams Moore. "The YMCA is so grateful for their generosity of spirit and willingness to collaborate on this project to serve our youth."
Students will be inspired by Riley's passion for friends, faith and fishing during the weekend's featured event, "The Riley's Cup," a world-class bass fishing tournament experience. Created by Riley's Catch and sponsored by Scott Clark Toyota and CliftonLarsonAllen LLP, the excursion will be captained by some of the most talented collegiate anglers in the country. Prestigious tournament leaders will include 2014 Carhartt Bassmaster College Series National Champions, the "UNC Charlotte Bass Rats," and the "NC State BassPack," three-time winners of the coveted national title, among others. "Getting students into the outdoors promotes healthy lifestyles while creating opportunities to learn about the environment and conservation," states Rod Goodall, Executive Director of Riley's Catch.
It was clear to collaborators that in order for the program to be effective and compelling for teens, it needed to be stewarded by teens. The group marshaled a diverse group of youth leaders to design the weekend's activities. Comprised of Y-Leaders, Y-Achievers, YMCA Camp Counselors-in-Training (CITs), and leaders from Riley's Catch, the youth leadership team began planning for the retreat in early summer and will serve as on-site facilitators throughout the program.
"It's unrealistic to think that teens won't experience stress or face extraordinary challenges – because we all do," asserts Moore. "The best we can do is empower teens with the lifelong skills they need to make healthy, values-based choices. Some of those skills cannot be taught – sometimes you have to learn by doing. That's our goal with this program. We want students to walk away from this experience knowing that they are valuable, talented and resourceful."
The cost for the Life of Impact Leadership Experience is $175 per person and includes overnight cabin accommodations, meals, activities and the optional fishing tournament. Financial assistance is available. YMCA Camp Thunderbird is located at 1 Thunderbird Lane, Lake Wylie, SC 29710. To register a student for the Life of Impact Leadership Experience visit lifeofimpact.me. For more information about the program please contact Jill Moore at (704) 716-4163 or via email jill.moore@ymcacharlotte.org. For more information about Riley's Catch please visit rileyscatch.com.
About the YMCA of Greater Charlotte
The Y is one of the nation's leading nonprofits strengthening communities through youth development, healthy living and social responsibility. The YMCA of Greater Charlotte, comprised of 19 Y branches and two resident camps, engages approximately 292,000 men, women and children – regardless of age, income or background – to nurture the potential of children and teens, improve the nation's health and well-being, and provide opportunities to give back and support neighbors. Deeply rooted in the community for 140 years, the YMCA of Greater Charlotte has the long-standing relationships and physical presence not just to promise, but to deliver, lasting personal and social change. ymcacharlotte.org.