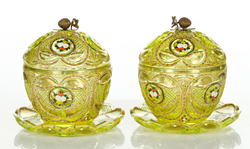 Beverly, MA (PRWEB) November 01, 2014
Kaminski Auctions hosted its first ever Persian, Islamic, Indian and Ottoman Empire auction on Sunday October 26th, with bidders all over the Middle East, Turkey, and India, including 25 bidders from Iran, signed up to bid online and over the phones. October seems to be the month for this genre as most of the large auction houses were hosting similar sales this month.
The bidding was competitive and steady for the first half of the sale as a collection of Bohemian glass, amassed over a forty-year period and made especially for the Islamic market, was presented at the podium. The glass presented together was a dramatically beautiful display of vibrant colors, shapes and sizes.
All of the collection sold very well, despite the top anticipated lot, a pair of monumental Bohemian glass pokals, possibly the work of August Bohm (c.1812-90), not meeting their reserve.
Top lot of the sale was a pair of 19th century cut and enameled Vaseline glass candy dishes with under plates and gilt detailing, which sold for $16,000, well above their $6,000 high estimate.
Other entries from this collection included two sets of decanters. The first was a pair of 19th century Bohemian glass decanters with a double overlay of blue and white glass cut to clear, with gilt and enamel decoration that sold for $9,000. The second pair, rare ruby red cut glass, with gilt and enamel decoration, sold for $8,000. Both achieved prices well above their presale estimates. Similarly, a 19th century pair of cranberry glass carafes sold for $7,500. Marketing the sale extensively in Europe paid off, as collectors and dealers from London, Europe and the Middle East vied to win these exceptional glass lots.
A 19th century Ottoman Empire silver sword with scabbard from a California estate sold for $14,000 after intense bidding on the phones and Internet. An impressive pair of Persian palace doors made of hand chased metal over wood construction and intricately decorated with geometric motifs and semi-precious stones impressed many gallery visitors and sold for $6,000.
A diverse selection of fine Persian carpets brought many collectors to the Kaminski gallery. A small Caucasian rug, measuring 57" by 43 1/2", drew the attention of numerous bidders. The rug presented strong colors and intact fringe, qualities rarely seen in Caucasian carpets of that age. The winning collector brought the rug home for $2,300.
Overall, Kaminski's specialized sales have done extremely well this fall and they will continue with another auction of this genre planned for 2015. Coming up on the schedule for this fall are the important Annual Thanksgiving auction scheduled for November 30th and the New Year's two day sale December 27th ad 28th. Kaminski is now accepting consignments for these important auctions. For more information contact consignments(at)kaminskiauctions(dot)com or call 978-927-2223.