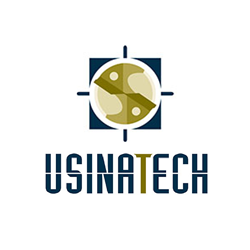 We have a lot to be proud of here in the Richmond area with a thriving industrial park and innovative companies like Usinatech.
Richmond, Quebec, Canada (PRWEB) November 01, 2014
On Saturday, Hélène Tousignant, President of the Richmond Chamber of Commerce and Industry, and the City of Richmond's Director General Rémi-Mario Mayette, announced Usinatech Inc. as the winner of the 2014 Porteurs d'Influence award.
Usinatech was chosen as the winner for its active role in raising the profile of Richmond in the eyes of national and international business communities. Usinatech founder and CEO Rudy Pelletier and co-founder and VP Daniel Pelletier were on hand to accept the award presented by Mrs Martine Plante, Richmond National Bank Branch Director. Accompanying the Pelletiers were Usinatech's management team members Roxane Blais, Martin Côté, Patrick Côté, Karine Fortin, Christian Grégoire, Normand Pelletier and Marie-Claude Rocheleau.
The aim of the well attended gala event was to showcase the world-class achievements of regional companies like Usinatech, who promote and raise awareness of Richmond beyond the boundaries of the city and the region. Over a hundred and fifty local business leaders and members of the community were on hand to take part in the event which featured a gourmet dinner and dancing as well as an awards presentation. Usinatech was one of three finalists selected from a number of local companies eligible for the award, along with Thermo 2000 and TechniFlamme Combustion.
The Richmond Chamber of Commerce and Industry event also saw the presentation of the "O'Donnell Award for Community Involvement" to Mr. Martin Lafleur. The 2014 O'Donnell Award winner was actively involved in organizing, supporting and promoting local festivities and groups like the St-Jean-Baptiste Festival, the Antique Car Festival, the Christmas Basket Campaign, the Christmas Artisans and the the Cycling Club of Richmond-Windsor.
"We have a lot to be proud of here in the Richmond area with a thriving industrial park and innovative companies like Usinatech who have customers all over the world," said Richmond Region Director General Mayette. "But often the members of our own local community don't know enough about international business success stories that start in our own back yard. Now this gala is our chance to change that."
A high quality, high volume CNC machined parts manufacturer with over 300 employees and three plants in Richmond, Usinatech also has a plant and offices in Saltillo, Mexico. Operating locally since 1984 and in Mexico since 2010, Usinatech has automotive OEM and Tier 1 customers in the USA, Mexico, Finland, as well as Canada. The company was chosen as the winner of the Porteurs d'Influence award for its success in growing US and Mexican automotive, recreational, heavy and farm equipment markets, with high profile brands including GM, Chrysler and Maserati as well as BRP, Kawasaki and John Deere. These demanding clients rely on Usinatech for making the highest quality parts, delivered on time and on budget, year after year. Precisely.
###
FOR MORE INFORMATION. PLEASE CONTACT:
MEDIA INQUIRIES:
Davis Gravelsins
Marketing Communications
416-706-7669
BUSINESS INQUIRIES:
Christian Gregoire
Sales & Purchasing Director
819-826-3774 ext 287