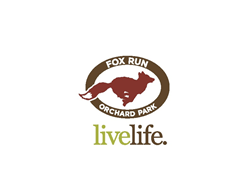 Orchard Park, NY (PRWEB) October 31, 2014
Fox Run at Orchard Park is now showcasing some of their community members on their website. This month, they are sharing the story of Harriet and Lew McCauley.
Harriet and Lew McCauley have been married for 59 years, with three children and six grandchildren. The two met at age 14, when they both lived in the same North Buffalo neighborhood. Today, the McCauleys live in a beautiful patio home at Fox Run, which they moved into four years ago.
At Fox Run, the McCauleys embrace the same lifestyle they have always had. Lew goes to work every day at McGard, an automotive security products company which he founded and owns. Harriet is active in a number of community activities, as well as events on the Fox Run campus, such as water aerobics, happy hour at Fox's Den and the Orchard Park Farmer's Market at Fox Run, which takes place every Thursday from May through October.
The McCauleys decided to move to Fox Run to give peace of mind to their children.
"We are in good enviable shape and in good health, and we count our blessings," said Lew. "But we didn't want to put our kids through what we had to go through with our mothers."
Both Harriet and Lew have found that they fit right in at the Fox Run community.
"It's pretty easy to stay young in this environment," said Harriet. "Nobody acts their age, and there's such variety of activities that you could do something every day of the week if you wanted and still not cover everything."
Lew claims that one of the best things about Fox Run is the camaraderie, "from my neighbors to the Fox Run maintenance staff, everybody is just wonderful."
To learn more about the McCauleys, read their story on the Fox Run website at http://www.foxrunorchardpark.com/page/embrace-life/41.html.
About the company:
At Fox Run, residents are surrounded and supported by a family that includes fellow residents and Fox Run's staff, directors, board members, and their sponsor, The United Church Home Society, Inc. All working together, this family is committed to providing the best senior living experience possible to all the residents who live there. Within no time, residents are on a first-name basis with neighbors – not to mention the executive chef, healthcare administrator, executive director, and all of the Fox Run family. For more information, visit their website at http://www.foxrunorchardpark.com/.