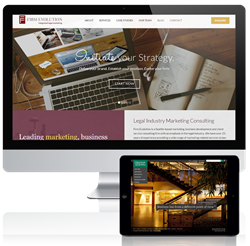 How many potential billable hours does your firm spend developing print collateral, updating the site, or generating eNewsletters?
Seattle, WA (PRWEB) November 02, 2014
Online marketing firm, efelle creative has been investing specifically in the legal software industry with their LawFirmFusion platform for the last 9 years. Based on feedback from over 70 legal clients, efelle has been able to refine a system that removes the grunt work of ongoing site maintenance, developing print collateral, designing eNewsletters, and tracking analytics. The platform, reminiscent of Microsoft Word in terms of usability, seamlessly supports ongoing marketing initiatives and facilitates frustration-free content updates and marketing management from any device.
LawFirm Fusion can turn your website into an aggressive tool that works as hard as you do. The robust analytics were designed to showcase SEO performance as well as help firms determine ROI for various speaking engagements and initiatives. Area leaders such as Graham and Dunn and Summit Law are able to take advantage of LawFirm Fusion's frequent system upgrades to stay ahead of the curve. Gone are the days of static content and hard-coded websites – efelle's software dynamically categorizes and pulls information across sections of the site, which allows you to spotlight rotating practice specialty features, and truly position yourselves to search engines and users as an authority in the field.
Projects are in the works for Black Law Group and General Legal Counsel, and each client, new and old, has access to efelle's future-proof software and ongoing, proactive support. Security vulnerabilities, such as the recent Poodle attack, are all taken care of before becoming a problem and impacting your business.
About efelle creative
Founded in 2005, Seattle-based efelle creative specializes in custom website design and search engine optimization strategies for professional service firms with a focus on law firms. Over the past 9 years, efelle has grown into a team of 32 in-house graphic design, development and marketing specialists that produce award winning websites supported by robust software solutions.
With more than 500 custom website design and development projects under their belt, efelle works with a variety of business entities in dozens of industries, from start-ups and local small businesses to large national and international corporations. In addition to its law firm website management platform, efelle also offers other custom online marketing solutions for eCommerce businesses, membership organizations, medical and real estate industry professionals, and more.