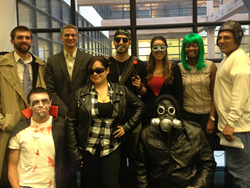 Chicago, IL (PRWEB) October 31, 2014
American Homeowner Preservation ("AHP") announced the winner of the company's first annual Halloween costume contest is Senior Litigation Specialist Christal Tarver as Nikki Minaj. AHP's employees got into the spirit with an assortment of spooky outfits and, after a round of voting, the three most creative participants were awarded cash prizes. AHP's Founder and CEO Jorge Newbery was pleased with the contest's turnout, and one employee even entered the contest as Newbery.
"We have a tight-knit group here at AHP and fun events like this every once in awhile really enhance the positive atmosphere," said Newbery. "I appreciate many employees taking the time and effort to really make our first costume contest a tremendous success."
Coming in second-place for the contest was Social Impact Writer Peter Kelly who transformed into a vampire, zombie combination which is sometimes referred to as a zampire. Kelly credits his second place victory to AHP's Marketing Manager Laura Sorg who showed off her costume design and make-up artistry skills in creating a colorful zampire.
The contest's third place winner was AHP's Business Development Manager Aaron Olson, who dressed as Castiel from the TV series "Supernatural". Olson did a tremendous job designing his costume and proved to be very resourceful in using cardboard, coffee filters and spray paint to create a pair of angel wings.
Though there were only three winners, there were many outstanding costumes: Rambo, a gas-mask villain, Gemma from Sons of Anarchy, an old school football player sporting a leather helmet, a masquerade dancer and, of course, Jorge Newbery.
American Homeowner Preservation is a socially responsible investment fund manager which empowers accredited investors to purchase equity in pools of distressed mortgages and earn returns of 9-12%. For further information or inquiries please visit https://ahpinvest.com or call 800-555-1055.