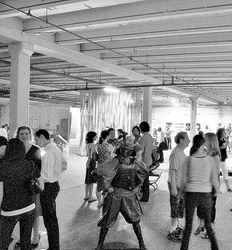 Hello Strangers are Franklin County PA girls, who released their first national album on October 21, 2014.
Franklin County PA (PRWEB) October 31, 2014
The Franklin County Visitors Bureau invites you to explore live music, comedy, drama, and visual arts at Shippensburg's The Thought Lot. Be compelled and inspired as the passion of live performance co-mingles with originality and creativity. Experience The Thought Lot at The Grand Re-Opening on November 8. The evening begins at 4 PM with a meet and greet reception with light hors d'oeuvres and a variety of local wines and beverages. At 7 PM, Hello Strangers opens the evening's live musical entertainment, followed by The Pale Barn Ghosts and the Nick Andrew Staver Trio.
Hello Strangers is a sister duo, Larissa and Brechyn, who meld the sounds of American folk music, modern Indie, country rock and a little classic rock, too. Hello Strangers are Franklin County PA girls who released their first national album on October 21, 2014. The album--appropriately called Hello Strangers--made it to #23 on the Americana chart, #1 on the AirPlay Direct Americana chart, and #14 on the Alternate Root chart.
The Pale Barn Ghosts have an alternative country flavor. The five-man band's name recognizes a favorite resting place--the pale barn--where band mates working as cemetery maintenance technicians--gravediggers--would take an occasional nap and make a little music. The Nick Andrew Staver Trio performs modern blues with a mix of jazz and rock with original lyrics and music by Nick Staver.
The Grand Re-Opening features the offerings of local and regional artists, including sculpture by Steve Dolbin, the reflective paintings of Rebecca Myers, hot wax painting by Jill Claire, graphic design and visual art of Emily Fulker, photographic art by Scott Hibbits, the bold paintings of Kate Keely, the sensual art of Hannah Kunce, abstract art of Beck Metzbower, and multi-media artisan Cookie Redding.
Other Thought Lot performances in November include Dean Brocious, Strung Tight, and The Negley Brothers on November 15 and on November 22, a performance by Only Living Boy, Empire Escorts, and Sundog.
Enjoy the energy of live entertainment and original art at The Thought Lot, 37 East Garfield Street in Shippensburg, and throughout Franklin County.
The Franklin County Visitors Bureau invites all to explore Franklin County PA and enjoy the history, arts and entertainment, recreation and natural beauty, and the fresh foods and warm hospitality of charming communities like Chambersburg, Greencastle, Mercersburg, Shippensburg, and Waynesboro. Franklin County PA is located just north of the Mason Dixon Line and an easy drive to Washington DC, Philadelphia, and Pittsburgh. Discover more....plan your visit at ExploreFranklinCountyPA.com or by contacting 866.646.8060.