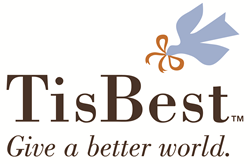 TisBest is democratizing philanthropy, which has historically been an activity associated only with wealthy individuals.
Seattle, WA (PRWEB) October 31, 2014
TisBest Philanthropy has hired Jeremy Holmes to lead the nonprofit's customer service initiative. Holmes joins the nonprofit's award-winning team of technology and marketing experts.
"We are absolutely thrilled to welcome Mr. Holmes to our team," says TisBest Executive Director Jon Siegel. "His experience in environmentally-friendly moving systems and entrepreneurial environments helps bring a conscientious and energetic leadership to our customer service team. We are committed to educating businesses about new giving technologies and donation solutions as well as remaining the industry leader in customer service. Mr. Holmes's guidance and expertise will help us keep our customers' needs a top priority."
The title "Customer Success Coordinator" speaks to the nonprofit's mission to provide an excellent experience for every customer, according to Siegel.
"TisBest is in the unique position of helping people become philanthropists with our charity gift cards," Siegel says. "For some people this is their first time donating to charity. For others, giving has become an important tradition for their company or family. It's important to us that we provide excellent support for every customer throughout his or her donation experience. In doing so we hope to encourage our customers to continue to support their favorite causes and find new ways to make a difference in areas they feel passionate about."
"I am very excited to join the TisBest team," says Holmes. "I am passionate about helping others create positive change in the world, and it's wonderful to join a nonprofit that uses such a unique technology to achieve that goal. TisBest is at the forefront of a technological revolution that puts the power to change the world in the hands of individuals. It's amazing to think about where this technology will take us, and I am so happy to be along for the ride."
TisBest is democratizing philanthropy, which has historically been an activity associated only with wealthy individuals. TisBest Charity Gift Cards make it possible for individuals of modest means to support causes of importance to them. To learn more about TisBest Charity Gift Cards and TisBest's other innovative giving programs, visit http://www.TisBest.org.
About TisBest Philanthropy
TisBest Philanthropy is a 501(c)(3) nonprofit organization dedicated to fostering the growth of non-material gift-giving. TisBest created charity gift cards in 2007. Charity gift cards work like conventional gift cards, but with one important exception: the recipient of a charity gift card "spends" it by choosing a charity to receive the funds.
With a TisBest Charity Gift Card, you make the donation and your recipient decides how to spend the donation, choosing from TisBest's 300+ charity partners.TisBest cards are customizable at no additional cost, and have become increasingly popular as consumer and business gifts. Learn more at http://www.tisbest.org.