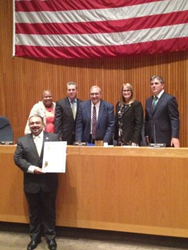 "If we were to take a keen assessment of our current health status, using the most current technology, we can deliver a health plan that can improve our health and cardiovascular system." Dr. Kavesteen said
Plainview, NY (PRWEB) November 19, 2014
Dr. David Kavesteen donates time to provide early detection screenings to Village of Babylon employees on November 6th 2014.
Dr. Kavesteen believes that early detection is the best prevention for cardiovascular disease; for this reason, he has created this Free Heart Screen Program which he has offered to various government employees and teachers around Long Island.
"In today's world, we are inundated with different stressors that can cause significant health issues. If we were to take a keen assessment of our current health status, using the most current technology, we can deliver a health plan that can improve our health and cardiovascular system. This will optimize our body's metabolism and health and further reduce risk of developing chronic illness such as cardiovascular disease," Dr. Kavesteen said.
The screening is designed to evaluate and educate participants about their cardiovascular health. It includes a Blood Pressure Evaluation, Pulmonary function Test, Electrocardiogram (EKG) and Pulse Oxygen Test.
Similar screenings have been performed for the Town of Huntington, Town of Islip and the Comsewogue School District.
The program, which was created several years ago, is having great success educating the local community and their families.
To learn more about early detection and prevention, please visit http://www.heartandhealth.com