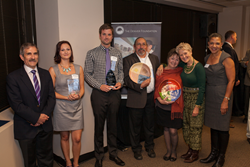 Building a movement for justice and democracy means removing obstacles in front of young people as they work to succeed.
Denver, CO (PRWEB) October 31, 2014
For almost two decades, The Denver Foundation has presented the Swanee Hunt Leadership Awards to community members who make major contributions to improving life for people in Metro Denver. Hunt, for whom the award is named, is a world-renowned philanthropist, author, and the former U.S. Ambassador to Austria. She now lives in Massachusetts, but offers these awards as one of the ways she keeps ties with the Denver community where her philanthropy began with The Hunt Alternatives Fund. This year, Ambassador Hunt presented the awards in person at the recent Annual Community Leadership Celebration held at The Denver Foundation.
The 2014 Hunt Emerging Leader Award was given to Brittany Pyle. Brittany, a Colorado native, received her Bachelor of Science in Human Services and Nonprofit Organization Administration from Metropolitan State College of Denver. While in college, she served as the Lead Student Coordinator in developing the Metro State Food Bank, service that garnered her multiple student involvement and leadership awards. Brittany also worked at The Denver Foundation through the Nonprofit Internship Program providing administrative support to the team and to the internship program itself. After college Brittany served as an AmeriCorps VISTA for Horizons for Homeless Children in Massachusetts; there she managed 235 people who volunteered to play with homeless children living in shelters around the Northeast Region. Since returning to Colorado, She has worked for the National Stroke Association, and currently is at the American Heart Association where she is the Executive Assistant to the Regional Vice President. Brittany shared that she learned a lot to dispel her myths about leaders after reading about book given to her about servant leadership. "Leadership is about empathy and creating community. That's the kind of leader I want to be," Brittany stated.
Pam and Ricardo Martinez were recipients of the Swanee Hunt Individual Leadership Award. The couple, who are the founding members of Padres Unidos, met on a picket line for the United Farm Workers picket line almost forty years ago. Since then, they have been an indomitable team fighting for educational equity, immigrant rights, and student involvement in educational policy. Together, they are accomplishing a great deal. In addition, they have each accomplished significant goals on their own. Among many other accomplishments, Pam founded the first women's studies program in the country at San Diego State University, and advanced educational reforms to ensure that college preparation is a right for all students attending Denver Public Schools, regardless of their race, gender, or zip code. Ricardo recently guided students in rewriting the Intergovernmental Agreement (IGA) between the Denver Public Schools and the Denver Police Department that contains language that clarifies and limits the role of police officers assigned to Denver schools. This new IGA has been recognized nationally as being one of the first to be initiated and negotiated by youth. "Building a movement for justice and democracy means removing obstacles in front of young people as they work to succeed," Ricardo shared. "Our work is not done."
The Foundation presented the seventh annual John Parr and Sandy Widener Civic Leadership Award to Flobots singer and founder Jamie Laurie, known better by his stage name "Jonny 5." The award was presented by Denver Foundation President David Miller, who had strong ties to both John Parr and Sandy Widener for whom the award is named. The couple died tragically in a car crash in December of 2007, while traveling on vacation with daughters Chase and Katy. Only Katy survived. "Their home was a hotbed of community activity and debate," David stated about his late friends. "This occasion is both bitter and sweet." Jamie, who was also presented with a proclamation from the Governor's Officer at the celebration, humbly accepted his leadership award stating: "The only way for me to make sense of this is to recognize that it's up to us to raise our voice to fill in where the loss exists, to create better communities."
***
About The Denver Foundation: The Denver Foundation is a community foundation that inspires people and mobilizes resources to improve life in Metro Denver. In 2013, the Foundation and its donors awarded $50 million in grants. The Denver Foundation has three roles: stewarding an endowment to meet current and future needs for Metro Denver, working with community leaders to address the core challenges that face the community, and managing more than 1,000 charitable funds on behalf of individuals, families, and businesses. For more information, visit http://www.denverfoundation.org.