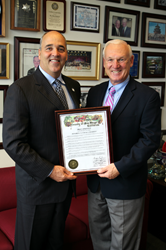 As a long-standing member of our community, National University has demonstrated its commitment to improving educational opportunities for our region through its quality programs
San Diego, Calif. (PRWEB) October 31, 2014
National University, the 2nd largest private, nonprofit university in California, has entered an agreement with the County of San Diego to provide educational and scholarship opportunities to the county's approximately 16,000 employees. The collaboration reflects National University's commitment to develop educational partnerships with the communities it serves, including the public sector and other entities that serve the public good.
Through the agreement, National University is offering San Diego County employees a scholarship that is the equivalent of a 15 percent tuition reduction, as well as waiving the application fee toward earning an associate's, bachelor's, or master's degree or certification. The collaboration is being praised by County Supervisors Ron Roberts and Dave Roberts.
"I'm very excited about this partnership with National University, which has a strong track record in student success and outcomes," said San Diego County Supervisor Dave Roberts. "We are committed to providing our County employees with opportunities for academic advancement. National University's programs are easily-accessible to our workers and will improve their delivery of services to the public."
National University has been an educational leader throughout San Diego and San Diego County, with many notable alumni serving the public sector. Among them include Former San Diego Mayor Police Chief Jerry Sanders, who is now CEO of the San Diego Regional Chamber of Commerce; John Bolduc, Acting CEO of the Port of San Diego, and Michael J. Aguilar, formerly Federal Security Director with San Diego International Airport; and former Escondido Mayor Lori Holt Pfeiler, who is now Executive Director for San Diego Habitat for Humanity. Other notable alumni throughout California include Tustin Mayor Al Murray and Fresno Fire Chief Kerri Donis.
"As a nonprofit university dedicated to the public good, we see this educational partnership as a chance to recognize the hard work and dedication of San Diego County employees and to contribute to our community's future successes," said National University President Michael R. Cunningham. "As a part of San Diego County ourselves, we believe that providing County employees access to a quality education through National University benefits not only individuals, but the greater community."
The University, which has campuses throughout California and Nevada, offers more than 100 undergraduate and graduate degree programs that are taught in a "one course per month" format, with many courses also available online. As one of the pioneers of online education opportunities, National University offers a state-of-the-art online learning management system that creates a seamless educational experience between the traditional and online classroom.
"As a long-standing member of our community, National University has demonstrated its commitment to improving educational opportunities for our region through its quality programs," said County Supervisor Ron Roberts. "We look forward to connecting our employees with opportunities for educational advancement through National University's many degree programs that are available through this academic agreement."
County employees can learn more at: http://www.nu.edu/countysd/
About National University
Founded in 1971, National University is the second-largest private, nonprofit institution of higher education in California. With 30,000 students and more than 140,000 alumni, National University is the flagship institution of the National University System. National University is dedicated to making lifelong learning opportunities accessible, challenging, and relevant to a diverse population of students. Five schools and one college – the College of Letters and Sciences; the School of Business and Management; the School of Education; the School of Engineering and Computing; the School of Health and Human Services; and the School of Professional Studies – offer more than 100 graduate and undergraduate degrees and 23 teacher credentials. Programs are offered at locations throughout California and across the nation, and are also available online. National University is headquartered in La Jolla, California.