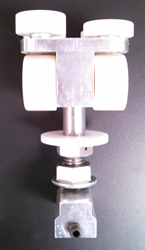 Providing the right materials for a storefront can be difficult, and incorporate a lot of creativity based on the customer's vision, the materials being used, and the overall look and feel of the final product
Closter, New Jersey (PRWEB) October 31, 2014
Upon recognizing a need to provide contractors of storefronts for malls, restaurants and other standalone businesses a complete storefront package as opposed to just glass or framing structures, National Mallfront decided to research and develop new and better ways to do the job. This took them into the direction of incorporating metal, wood, glass, sign, and graphics shops into their build services. Today, the company is expanding its capabilities through research and development.
"Providing the right materials for a storefront can be difficult, and incorporate a lot of creativity based on the customer's vision, the materials being used, and the overall look and feel of the final product," said Greg Pung, Project Manager at National Mallfront. "On top of that, everything has to be easy to install, and operate smoothly and efficiently," he noted. After all, once the storefront is in place, employees need to be able to operate everything without any problems.
The company's goals are always increasing along with the needs of their customers. Most recently, National Mallfront decided to produce a sliding door system that would allow them to use a 10-foot wide by 20-foot tall by ½-inch tempered glass panel weighing 1280 pounds. "The goal is to be able to slide the glass panel easily and smoothly in and out of place. Often, employees are young men and women who can't man-handle such a large panel.
Greg ordered five standard 1.125 polymer iCamFollowers® from Intech and began a several month long test on the components. "These are key components," Greg said. Polymer cam followers and plastic guide rollers used in these applications must be extremely wear resistant, need no maintenance, and handle the enormous weights placed on them 24/7 without developing flats. Hanging doors provide no relief for the linear slide components holding them up. The coated bearings literally make or break the performance of the door panel. The components must also offer long life. It is costly to have a team come out and remove the 1280 pound glass panel just to replace a bearing.
"We require that every new component we incorporate into any of our systems be well tested in-house, which assures us that our customers will have a long-lasting product that they don't have to worry about," Greg said. Metal bearings were not an option because they require periodic lubrication, produce more friction, are noisy, and wear out the aluminum rails. Other plastic or nylon components don't have the load capacity needed and easily developed flats, rendering them unusable. The self lubricating, precision machined plastic tire used in Intech's guide rollers requires no lubrication between the roller and the rail, saving grease and maintenance. The high quality ball bearings encapsulated by the tire are lubricated for life. These composite tires also absorb shock and vibration, do not wear out Aluminum rails, and run up to 10dB quieter than comparable metal followers. The precision parts have a runout bellow +/-0.001 inch which contributes to smooth and quiet rolling. Ultimately, the Intech guide rollers performed perfectly and Greg's team sketched out an idea they had for a special shaft that they wanted to incorporate into the track rollers.
Intech Powercore used National Mallfront's sketch to design the shaft into the rollers using Pro-E Creo CAD software. The company provides motion systems solutions with precision machined parts from advanced engineered material such as nylons, acetals, as well as its proprietary Power-Core™ polymer. Applying years of experience in designing heavy-duty rollers and cam followers for demanding industrial applications, based on proprietary engineering calculations, Intech engineers designed the plastic encased ball bearings for Mallfront to last over 100 million rolling cycles. Greg performed additional tests using the semi-custom rollers, and found that they worked perfectly.
Most glass door panels weigh only about 240 pounds, so suspending them on two guide rollers from a top-mounted frame is fairly typical. To hang a glass panel that is 1280 pounds glass would be more strenuous. Mallfront designed additional guide rollers into the sliding systems trolley to eliminate squat load and to safely carry the weight. This fixed the problem. "Once the door was in place, the massive glass panel could be moved using one finger," Greg points out.
The company's goal is to hang a 20-foot wide by 40-foot long glass panel in a similar manner. Such a panel would weigh four times that of the 10-foot by 20-foot door, but Greg's sure that by working with Intech's engineers they'll be able to design a sliding door system strong enough to do the job. The task should be easier now as Intech iCamfollower components were tested and found to be the best solution to holding up the 1280 pound glass panel. Intech is confident that any challenge they are faced with will yield a solution where the components they deliver will be quiet, need no lubrication, and allow any size the panel or door to glide easily.
For information:
National Mallfront & Design
901 W. Melinda Lane
Phoenix, AZ 85027
Intech Corporation
250 Herbert Avenue
Closter, NJ 07624