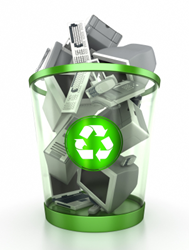 By coordinating e-recycling with property management firms, R.A.K.I saves tenants the cost of sourcing a pick-up for IT disposal.
(PRWEB) November 04, 2014
A new campaign has started at R.A.K.I Computers Recycling and the target audience is the corporate property managers of Houston! R.A.K.I wrapped up the month of October with an e-recycling collection in Houston's Energy Corridor. On October 29th R.A.K.I teamed up with Hines Property Management to provide its e-waste disposal solutions to the tenants of its Park Ten Place facilities. The collection was in the form of an all-day clean out, in which R.A.K.I serviced any tenants needing assistance with dismantling while all other tenants were free to bring down equipment at their discretion.
The benefits of this recycling drive were green in more ways than one. By coordinating e-recycling with property management firms like Hines, R.A.K.I saves tenants the cost of sourcing a pick-up for IT disposal. This is because an individual tenant will likely cover transportation cost that will not be reimbursed through the recycling of a small amount of e-waste.
Therefore, through recycling equipment collectively, R.A.K.I will turn facility maintenance into an easily scheduled endeavor that is cost-effective for its clients. The latest facility housed many prominent oil and gas companies and served as the largest e-recycling drive R.A.K.I has done for a multi-tenant office building.
"This is the start of a new campaign to help property managers throughout Houston and its surrounding areas. We want recycling to be easy, hassle free and inexpensive so our collection drives work out better for all parties involved. Earth Day is a popular holiday for recycling so April is expected to be a busy month for the campaign" says Darien Harris, Marketing Coordinator for R.A.K.I Computers Recycling.
America Recycles Day will be equally exciting for R.A.K.I as yet another e-waste collection is scheduled to take place November 15th. However, instead of servicing a facility full of oil industry firms, R.A.K.I will be servicing its local Houston residents by partnering with the Brenda and John Duncan YMCA. From 9:00AM to 1:00PM the public will be welcome to drop off electronics for a free recycling service, making recycling a fun and family oriented activity.
The Brenda and John Duncan will be the first YMCA location that R.A.K.I has partnered with for IT disposal and will likely become a staple in its community outreach activities. The YMCA is a household name with a broad demographic making for an excellent platform to bring e-recycling to Houston's suburbs.
For more information you can contact R.A.K.I. Computers Recycling directly via their website and follow them on Twitter to stay updated.