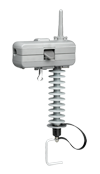 Europe is paving the way for the use of renewables, and grid operators want to avoid introducing blackouts or power outages at all costs
Amsterdam (PRWEB) November 04, 2014
Tollgrade Communications, Inc., the industry leader in redefining the global standard for reliability at the world's largest electric utilities and telecommunications providers, announced today the availability of its LightHouse® Medium Voltage (MV) Power Sensor for Europe. Today, European grid operators are under increasing pressure to meet low carbon and efficiency mandates. As renewable energy sources such as solar and wind are brought into the aging grid, they have the ability to disrupt grid operations, causing a higher likelihood of blackouts or power outages if not monitored properly. Monitoring the distribution network with new sensor technology provides grid operators with valuable, real-time data needed to improve resiliency.
Tollgrade's LightHouse MV Power Sensors are the world's first battery-free, 'all-in-one' Smart Grid Sensor capable of monitoring real-time voltage on distribution networks within 0.5% accuracy. This new technology is a low cost, highly-accurate monitoring solution that helps European utilities and Distribution Network Operators (DNOs) bring more renewables online safely. Tollgrade's LightHouse MV Power Sensors easily clamp-on to overhead power lines to measure voltage, current and power (real, reactive and apparent). Highly accurate voltage, current and fault measurements provide valuable real-time inputs to key planning models and control applications including Supervisory Control and Data Acquisition (SCADA) systems, Distribution Management Systems (DMS) or Active Network Management systems.
"Europe is paving the way for the use of renewables, and grid operators want to avoid introducing blackouts or power outages at all costs," said Edward H. Kennedy, CEO, Tollgrade Communications, Inc. "With Tollgrade's new MV Power Sensor, grid operators can safely monitor the state of their grid and have access to the real-time data that unlocks the potential of renewables without compromising grid reliability. This is an important step required to fortify grid resiliency in Europe."
Other sensor technology can take several hours to be installed, often requiring more than one crew. They may also require dedicated optical cables and additional pole-mounted equipment or batteries that can add operating expenses to maintain the system, and may be more likely to get damaged by environmental wear and tear. By comparison, Tollgrade's new LightHouse MV Power Sensor is a rugged solution that is easier and far less labour intensive to install and requires no maintenance, no batteries or sensitive optical equipment. Installing Tollgrade's MV Power Sensors can be completed by one crew making it far less expensive to deploy and maintain. These benefits lead to stress -free, low cost deployment with the lowest Total Cost of Ownership (TCO) of any comparable solution.
Demonstrations at European Utility Week in Amsterdam 4-6 November 2014
Tollgrade will demonstrate its LightHouse MV Power Sensor in stand 1.E90 at European Utility Week 4-6 November 2014, and the company invites attendees and the press to stop by for a demonstration.
Pricing and Availability
LightHouse MV Power Sensors for Europe will be available in Q4 of 2014. For pricing or more information, please contact getlighthouse(at)tollgrade(dot)com.
About Tollgrade
With more than 200 million lines under test, millions of utility outage minutes avoided annually and 25 years of experience successfully locating faults at the world's largest electric utility companies and telecommunication service providers, Tollgrade is redefining the global standard for reliability. Our award-winning fault detection hardware and predictive analytics software is deployed on four continents to help operators avoid network outages and reduce customer downtime. Tollgrade has been recognised as one of the Top 13 Smart Grid Companies to Watch in 2013 by SmartGrid News, and received Fierce Energy awards in "Substation Automation and Distribution Automation" and "Asset Management." Tollgrade was named the Smart Grid Sensor market share leader in North America by IHS Research, and has been recognised as a Platt's Global Energy Awards finalist in 2013 and 2014. To learn more about Tollgrade, visit http://www.tollgrade.com or read more about the benefits of grid modernization on our blog at http://www.blog.tollgrade.com.
Tollgrade Media Contacts:
Kimberly Getgen
Vice President, Corporate Marketing
Tollgrade Communications, Inc.
+1 703-408-1571 (mobile)
+1 703-707-4561 (office)
Anne-Laure Leroyer
Manager, Marketing and Communications
Tollgrade Communications, Inc.
+1 202-701-0083 (mobile)
+1 703-707-4588 (office)