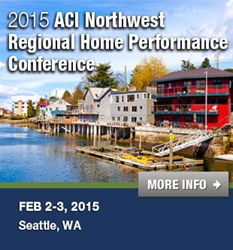 The Northwest is a progressive region in which home performance and weatherization are recognized as critical to improving quality of life and reducing the consumption of natural resources. -Nate Natale, Home Performance Coalition VP of Operations
Pittsburgh, PA (PRWEB) November 05, 2014
The Home Performance Coalition (HPC) will present the 2015 ACI Northwest Regional Home Performance Conference on February 2-3 at the Sheraton Seattle Hotel in Seattle, WA.
"The Northwest is a progressive region in which home performance and weatherization are recognized as critical to improving quality of life and reducing the consumption of natural resources," said Nate Natale, HPC's vice president of operations. "This conference will support the continued development of residential energy efficiency and will present excellent educational and networking opportunities for the individuals who are working to create energy-efficient, healthy, sustainable homes in this region."
The conference agenda will feature topics in essential building science, program implementation, policy updates, and business solutions for home performance and weatherization professionals in the Northwest—including contractors, utilities, weatherization agencies, HVAC professionals, remodelers, government agencies, and beyond. In addition, the event includes ample opportunities for networking and an exhibitor trade show with the latest technology, products, and services.
Puget Sound Energy (PSE), an electric and natural gas utility that provides electricity to more than 1 million customers and natural gas to more than 770,000 customers in a 10-county service area in the state of Washington, has renewed its support as the host sponsor for this conference; PSE previously invested as the host sponsor of the 2013 Northwest Regional Home Performance Conference, which also took place in Seattle.
"We're very grateful to Puget Sound Energy for its continued support of this event and of residential energy efficiency," Natale said. "We're honored to be working with such a progressive company—whose incentive programs have saved billions in kilowatt hours and millions in therms of natural gas over the years—on this important educational and networking opportunity."
Registration is now open, and more information is available at http://www.affordablecomfort.org/northwest2015.
-END-
The Home Performance Coalition creates energy-efficient, healthy, sustainable homes through education, training, advocacy, and outreach. For more information, please visit http://www.homeperformance.org.