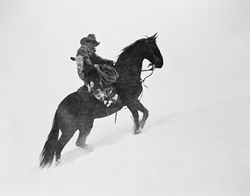 the popular exhibition...gives viewers a sampling of this vast historic photographic record.
Cody, Wyoming (PRWEB) October 31, 2014
The Buffalo Bill Center of the West's historic photographs exhibition "Retrieving the Past: Favorite Photos from the Archive" reproduces dozens of images from local favorites Jack Richard (1909-1992) and Charles Belden (1887-1966), along with the Buffalo Bill Online Archives collections.
Jack Richard's work artfully documents the wonders of Yellowstone National Park as well as local industry, ranching, and aerial photography of the surrounding area. Charles Belden photographed ranching in northwest Wyoming, particularly on the Pitchfork Ranch near Meeteetse, Wyoming. There cowboys worked cattle with the Absaroka Mountains as their backdrop. From images posed in portrait studios to moments captured in everyday life and in the Wild West arena, the Buffalo Bill collection follows William F. Cody from his days as a young frontiersman through his career as a showman and entrepreneur.
The images in "Retrieving the Past" are among those most requested of the Center's McCracken Research Library—many of which are available for purchase along with thousands of other photographs from these and other collections. Through ongoing, grant-funded projects, Library staff continue to digitize these historic images to increase public use and accessibility is an
The online collection of the Buffalo Bill Center of the West's vast historic photograph collection is made possible variously and in part by OCLC (Online Computer Library Center, Inc.); Mrs. Lynne Cheney; Wyoming Cultural Trust Fund, a program of the Department of State Parks and Cultural Resources; Institute of Museum and Library Services; and Carol McMurry Library Donor Advised Endowment Fund, through the Wyoming Community Foundation.
________________________________________
Since 1917, the award-winning Buffalo Bill Center of the West in Cody, Wyoming, has devoted itself to sharing the story of the authentic American West. The Center, an affiliate of the Smithsonian Institution, is open daily 10 a.m. – 5 p.m. through the month of November. For additional information, visit the Center's website or its pages on Facebook and Google+.