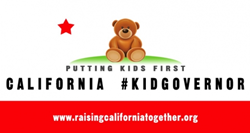 If we don't put our children first, how can we care about our future?
Los Angeles, CA (PRWEB) November 01, 2014
Areva Martin, a national child rights advocate and co-founder of the California nonprofit organization, Special Needs Network, is calling on California voters to be a #KidVoter on election day. By becoming a #KidVoter, Californians will demonstrate to elected officials that putting children first when it comes to public policy must be a priority in order to protect our future. Martin is joining other child advocates across the state to support California's Kid Governor, Celeste Elena Umana and the Raising California Together initiative.
Eight-year-old Umana is asking voters to take her pledge, calling on California's leaders to put a child-focused agenda first in Sacramento. She, along with Martin, is asking for a united, yet diverse voice to tackle issues related to child advocacy, particularly literacy and education.
According to an Oct. 16 article published in The Atlantic, educators and parents need to focus on exposing children to more words, especially underserved children in low-income communities. The article highlights several initiatives backed by the federal government and points out the importance of fostering informed and empowered parents in order to strengthen a child's educational and economic future.
"While the research continues about the importance of early childhood education, those of us on the front lines working with at-risk and special needs children witness firsthand the undeniable benefits of early intervention and education," says Martin. "On the other hand, we also witness the consequences when our children are not exposed to critical learning opportunities -- a reality our society should not accept and one that we can overcome."
"We know that early education creates a foundation," continues Martin. "We know exposure to words, language and literacy provides a ladder to boost children with extra challenges to the starting line in kindergarten. We know that closing the word gap can improve performance in school that in turn can result in greater life-long opportunities and decrease the risk of juvenile justice involvement."
Martin and groups like Raising California Together are challenging parents, family members, childcare providers, pediatricians and teachers to have a watchful eye for the children who could use an extra boost.
"Together, we can have a positive impact -- one child at a time," says Martin. "If we don't put our children first, how can we care about our future?"
Despite the staggering statistic that one in four children live in poverty in California, $1 billion was chopped from early education during the Great Recession. While the most recent state budget finally turned the corner from cuts to restoration and expansion of several child-serving initiatives, Martin feels voters and elected officials need to take more than just baby steps.
"Real investment and transformation of our battered child care system is needed to support the child care providers who do the critical brain building for our youngest learners," says Martin. "At the same time, childcare providers are struggling against poverty, as they're stuck in a broken system with no recognized voice to advocate for improvements in a system critical to our economy and our future."
"It's for these reasons that Special Needs Network is a part of Raising California Together and why I'm proud to join leaders like Susan Faludi, a Pulitzer Prize winning author and social justice advocate, as well as SEIU International's president Mary Kay Henry to become an official California #KidVoter."
"Special Needs Network has been at the forefront of issues related to improving the lives of kids with special needs and autism for years," explains Martin. "We are proud to add the California #KidVoter initiative to our range of advocacy campaigns."
"We are committed to doing our part in closing the disparity gap. We know that early intervention is the key and that providing early childhood educators with the training and skills they need are game changers for special needs and typically developing kids."
Martin wants parents, childcare providers, employers and everyone who benefits from quality child care need to rise up and send a clear message to Sacramento that California must put kids first.
"California Kid Voters support candidates and policies that invest in early education that builds pathways out of poverty for children, parents and child care providers," says Martin. "Together, we can close the word gap, eliminate economic inequality, and put our kids first!"
About Special Needs Network
Special Needs Network is based in Los Angeles and is California's leading grassroots autism advocacy organization. SNN was established to help individuals and families faced with autism and other developmental disabilities. The organization focuses on raising public awareness, impacting public policy, increasing education and access to resources for families, children and adults. Since its inception, SNN has served more than 35,000 individuals and families impacted by autism. To learn more, visit specialneedsnetwork.org.