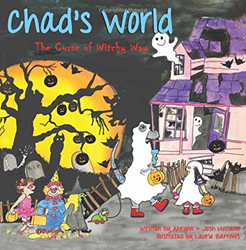 Sacramento, CA (PRWEB) October 31, 2014
The 3rd installment of brother/sister duo Ahrynn & Josh McCann's popular series, Chad's World, finds lovable dinosaur Chad on an epic Halloween adventure in, "Chad's World – The Curse of Witchy Way."
The Chad's World series addresses serious topics such as friendship, self-confidence, inner beauty and the acceptance of oneself and others, in a non-threatening light hearted way that makes a significant impact on kids.
In "Chad's World, The Curse of Witchy Way," Chad, Newman and Clair take the reader on their first Halloween trip together. From making Halloween costumes, to landing in the biggest eyeball pit, the friends celebrate their best Halloween adventure ever.
For it's positive messages for children, "Chad's World, The Curse of Witchy Way" received a 5-star review by 2-time Super Bowl Champ, NFL Pittsburgh Steeler Quarterback, Charlie Batch.
Available now at Amazon.
About Ahrynn & Josh:
As a sister brother duo, Ahrynn & Josh created Chad's World to inspire children to be unique, different and to accept oneself for who they truly are. They wanted not only to be able to bring young readers around the world a new, exciting adventure, but also to connect with children of all shapes, sizes and colors.
The main character, Chad, is a Daraptous Dinosaur. He is very tall and long, has blue eyes, bright teal spots, a yellow and blue belly, wears a bright red backpack and bright red rain boots that have straps on them. And then there is Newman, who is a wooden toy dinosaur and Chad's very best friend.
Chad is here to help kids know that it is okay to be different, unique and special. To love yourself, love who you are on the inside and the outside.