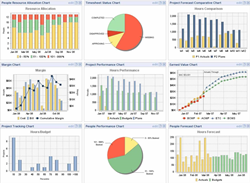 Dulles, VA (PRWEB) October 31, 2014
Unanet, a developer of services automation software that helps organizations manage people and projects for improved profitability, is an Amber Sponsor of The Sleeter Group Conference, Solutions 14, taking place from November 9-12 in Las Vegas, NV.
The Sleeter Group has been hosting their conference for over ten years and brings together accountants and accounting software professionals. Attendees can earn up to 32 CPE credits by choosing from dozens of sessions offered through eight different tracks as well as pre-conference workshops.
Donna Gandt, Unanet's Director of Partner Management, is presenting a session titled, Unanet: Go All-In! Project Accounting and Project Management in One System. Donna helps Unanet Partners grow their businesses through partner referral, certified consulting and reseller programs. She hopes to meet new partners, focusing those that work on project-based small to medium-sized organizations, to introduce Unanet financials. Unanet integrates to accounting and ERP systems such as QuickBooks, Sage, Microsoft Dynamics, Deltek and Oracle.
About The Sleeter Group
The Sleeter Group (@SleeterGroup) is dedicated to helping accountants and small businesses work together by using the most innovative and tested tools/systems to generate greater efficiencies and higher profits. We represent an independent view, separate from any particular company or product, and we evaluate solutions based solely on how they meet the demands of small business owners.
We have developed a broad range of "best practices" for proper implementation of small- to medium-sized business accounting software systems, and we act as the most trusted advisors for the accounting consulting community. Our Sleeter Group Consultants Network is a community of over 700 accounting experts who provide consulting services to over 300,000 small-to medium-sized business owners in the accounting software and business process design areas. Sleeter Consultants Network Members provide the critical glue — consulting and implementation services — that connects technology solutions to the needs of small- to medium-sized business clients.
In addition to the Consultants Network, resources from The Sleeter Group include reference books, webinars, seminars, an annual Accounting Solutions Conference and Tradeshow, a QuickBooks consultant certification program, practice management tools, QuickBooks teaching systems, QuickBooks assessment exams, a restaurant accounting system, and an accounting solutions Blog.
The Sleeter Group was established in 1994 and is based in Pleasanton, California, in the San Francisco Bay Area.
About Unanet:
Unanet is a leading provider of Cloud or On-Premise software for project-based organizations. Unanet delivers skills management, resource planning, budgeting & forecasting, timesheets, expense reporting, billing & revenue recognition, and project management reporting. Over 1,000 organizations rely on Unanet to maximize staff utilization, reduce administrative costs by 90%, improve invoicing by 10X, and support forward decision-making for improved operations.