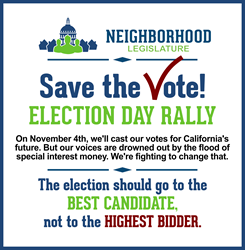 "We are proud to join this generation of student leaders and activists fighting for a better future. It will be our world soon and we must put in the work to shape it." - Dillan Horton, UC Davis Student
Fullerton, CA (PRWEB) November 07, 2014
University of California students came out in force on Election Day to protest that the electoral process in the state is corrupted and badly broken.
The political establishment urges Californians to take elections seriously and "make your vote count". Yet Political Science students across the state, who have analyzed real world data as opposed to electioneering slogans, have found that votes don't count, and that low turnout represents a rational response by citizens to a broken system.
The students' analysis includes many threads. In state elections, few contests are truly competitive, and virtually all incumbents are returned to office. Elected representatives do not respond to citizen votes, but to the special interest funders who pay for their expensive election campaigns. State electoral districts are so huge (about 1 million citizens per senate electoral district, and about half a million per state representative district) that candidates can't possibly meet and know their constituents. Voter turnout is low and declining. Money, not votes, ensures election results.
To rebuild this broken structure, the students are protesting under the banner of "Save The Vote". They want to reform the California electoral process to eliminate the big money that funds advertising campaigns, to enable more citizens to be able to afford to run for election, and to bring elections closer to the people.
These ideas are the inspiration for the Neighborhood Legislature, a proposed reform that the students are aiming to get onto the Ballot in 2016. The Neighborhood Legislature would divide every California electoral district by 100, resulting in tiny neighborhood districts of a few thousand households each. Elections in these tiny districts would be conducted door-to-door and face-to-face, obviating the need for massive advertising spending. The students have developed a complete organizational design and set of processes for running the new legislature of 12,000 elected senators and representatives.
The students are employing the modern technology of social media and network communications to build a groundswell of support for the Neighborhood Legislature– but a good old-fashioned on-campus protest is also part of their communications mix. As Dillan Horton, a Political Science Major at UC Davis said, "We are proud to join this generation of student leaders and activists fighting for a better future. It will be our world soon and we must put in the work to shape it."
For details of Neighborhood Legislature, see http://www.neighborhoodlegislature.com, or on Facebook at http://www.facebook.com/neighborhoodlegislature and Twitter at http://www.twitter.com/NLReform