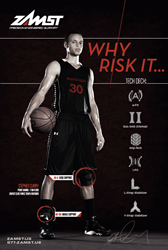 The A2-DX is the only product that has given me the full confidence to play without the fear of re-injuring my ankle.
Irvine, California (PRWEB) November 04, 2014
ZAMST, a leader in high-performance sports protective equipment, announced today a continuation of its worldwide endorsement deal with professional basketball star Stephen Curry. Considered to be one of today's best basketball players, Curry has battled persistent ankle injuries, and has continued Curry to wear the Zamst A2-DX ankle braces throughout the 2012-14 seasons, and will wear the A2-DX ankle braces for the upcoming season.
Since his ankle ligament surgery in 2011, Stephen has been wearing the Zamst A2-DX to support his ability to stay on the court. Stephen culminated his 2014 season by being named to his first All Star game, and starting at point guard for the Western Conference team. This All Star selection, in addition to setting the single season NBA record with 272 three pointers in 2013, Stephen has clearly separated himself as one of the elite shooters in NBA history. In addition to these achievements, he was once again selected to the 2014 Mens USA Basketball team. In the 2013-14 season Curry averaged 24.8 points, 4.3 rebounds, 8.0 assists, and 1.6 steals, becoming the first player in team history to average 24 pts and 8 rebounds in a season.
"Stephen is showing everyone what he can do when healthy, and is an amazing talent to watch on the court." said Bryan Smeltzer, general manager of ZAMST US. "Our performance driven product line was founded through innovative products created to help players like Stephen stabilize their injury, and provide them with both the physical and mental confidence to play without limitations. We look forward to continuing our relationship with Stephen, providing the product's he needs to perform at an elite level, and watching him continue to dominant as one of the NBA's premier point guards. Our Precision Engineered Support products protect and reinforce the elite athletes of the world, and we are proud to continue our partnership with Stephen."
ZAMST is a premier bracing and support company that has been providing elite athletes across the world with prevention and injury solutions since 1992. With a heritage in the medical field, the company has created its product line through a rigorous development process, which includes in-depth consultation with doctors, trainers and elite athletes to ensure high performance functionality.
The A2-DX ankle brace Stephen is wearing is constructed with unique EXO-Grid rigid guards which restrict both inversion and eversion sprains, while X-straps provide enhanced anterior, lateral and medial stability of the ankle. With a rear entry design, the brace provides an individualized i-Fit technology with an anatomically correct right and left ankle design.
"I've used a lot of different braces to help reinforce my right ankle, but since my surgery I have only been wearing the Zamst A2-DX, it has provided the support I need to keep me on the court" said Curry. "The ZAMST A2-DX is the only product that has given me the full confidence to play without the fear of re-injuring my ankle."
As part of the endorsement deal, Curry will be used internationally for in-store, print and online marketing activities for ZAMST. Per company policy, terms of the agreement were not disclosed.
ZAMST
ZAMST is a market leading brand of sports protective equipment, and used by professionals athletes worldwide. ZAMST offers a full line of premium injury prevention and protection sports bracing and supports products, featuring anatomically correct designs, high performance materials and superior construction. ZAMST is a division of the NIPPON SIGMAX Co., Ltd (Tokyo, JAPAN) with privately-held, wholly owned subsidiary corporations, SIGMAX AMERICA (Irvine, CALIFORNIA), SIGMAX EUROPE (Annecy, FRANCE) and SIGMAX CHINA (Shanghai, PRC). For more information, call toll free 877-ZAMST-US (877-926-7887) or visit http://www.ZAMST.us.