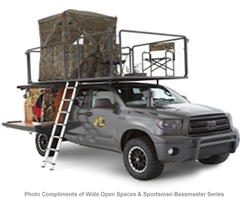 Toyota Truck Accessories make the difference between a good hunting season and a great hunting season! -- Scott McCorkle, Mount Airy Toyota Scion
Mount Airy, NC (PRWEB) November 01, 2014
In North Carolina and Virginia, hunting season is here and Mount Airy Toyota is ready! Due to the increased demand for hunting accessories Mount Airy Toyota Scion has expanded their accessory offerings to up-fit specialized hunting vehicles. "We know that the right truck with the right accessories can make a real difference in the hunting experience," says Jorge Martin, GM at Mount Airy Toyota Scion.
"Many of us here at Mount Airy Toyota are hunters ourselves and we can help you find and install parts to make your truck the best hunting companion," says Nicky York, general manager at Mount Airy Toyota Scion.
But does the vehicle make a difference in a hunting experience? This question may seem ridiculous to the avid hunter who already knows the benefits of having the right equipment for the job, but to the novice hunter it is a legitimate question.
According to avid hunter and blogger, Chuck Hawks, a crew cab pickup truck is the ideal hunting vehicle over an SUV. He writes, "It should ideally be a mid-size, four door, 4x4, short bed pickup with a cab height canopy or locking cover. It should provide comfortable seating for four adults. Durability and practicality should take precedence over show and go." Mount Airy Toyota suggests the 2015 Toyota Tacoma Double Cab or the 2015 Toyota Tundra 4WD SR5 for hunting adventures. Both of these trucks are customizable through Mount Airy Toyota's website or service department.
What are the best accessories for a hunting truck? "First and foremost, you want a heavy duty bed liner that can withstand scratches from hooves and antlers," suggests York. Heavy Duty-suspension and a water tight shell canopy are also recommended for hunting trips. Lockable storage is also necessary to keep guns, gear, and other valuable equipment protected when the vehicle is unattended. "We offer lots of ways to customize your truck on our website or stop by and we can customize it together," says York. If looking for some over-the-top customizations, look on the Wide Open Spaces website where they examine 9 custom Toyota Trucks for Hunting and Fishing.
The auto workshop at Mount Airy Toyota is fully equipped and technicians are trained on how to properly install hunting accessories. "A truck that can easily navigate rough terrain can make all the difference when you are trying to get to the right tree stand," explains York, "And once you've got the deer, you have to get it out of the woods, back to camp, and eventually back into town. That's when you really appreciate the right truck for the job."
Mount Airy Toyota Scion is part of the Scott McCorkle Family of Dealerships which includes Mount Airy Chrysler Dodge Jeep Ram and Liberty GMC Buick located in Charlotte. Mount Airy Toyota Scion serves Surry county and the surrounding area. Check out the inventory of Toyota trucks on the website or visit the dealership located at 508 N. Andy Griffith Parkway, Mount Airy, NC.