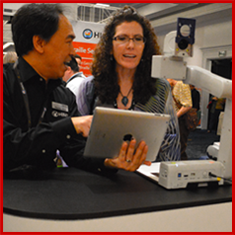 These aren't the type of products you can simply read about and buy online. They're tactile and fulfill needs at the very core of daily living, education and employment.
Austin, TX (PRWEB) October 31, 2014
Assistive technology specialists from HIMS Inc. head out this week to Toronto, Canada for the CNIB National Braille Conference, the first of 6 stops on a 3-week, 2-country hands-on, try-it-out tour with their newest assistive technology products for people who are blind or who have low vision due to aging and/or life-long eye conditions. In total, the company will meet with and present to 1,000s of rehab and assistive technology professionals including teachers of the visually impaired (TVI's) and occupational therapists (OT's) as well as parents and caregivers, and visually impaired students and professionals themselves.
The stops planned for this trip include private demonstrations at schools and workplaces as well as public showings at the following highly regarded annual conferences:
CNIB National Braille Conference
Toronto, Canada | October 30 – 31, 2014
Ohio AER State Conference
Dublin, OH | November 3 – 4, 2014
PaTTAN AT Expo
Pittsburgh, Harrisburg, King of Prussia, PA | November 11 – 13, 2014
VRATE Vision Rehab & AT Expo
Phoenix, AZ | November 7, 2014
Arizona AER State Conference
Sedona, AZ | November 13-14, 2014
Lone Star BLAST
Austin, TX | November 18, 2014
The technology products that will be demonstrated include:
CANDY 5 HD Handheld Video Magnifier – A handheld magnification device that magnifies from 1x – 22x and can change the text and background colors of reading materials to make text clearer to people with different eye conditions (think electronic magnifying glass).
E-bot ADV & PRO iPad Compatible Portable Video Magnifiers with OCR – All-in-one reading, writing and distance magnification products for those with low vision that can magnify images or reading material directly under the camera or across the room. It also has OCR built-in so it can read things aloud such as mail, magazines, textbooks and more. E-bot can connect and display magnified images onto an iPad, Android Tablet, laptop PC, standalone monitor or HDMI-enabled television.
Blaze EZ Multi-Player with OCR Text-to-speech – A digital talking book player with support for music, radio, Wi-Fi and PRINTED MATERIALS via built-in camera and OCR text-to-speech. (It's sort of like an iPod for the Blind but with special controls for navigating and bookmarking specially formatted digital books and near-instant access to printed materials.)
Braille Sense U2 Braille Notetaker – A tablet-like computer for the blind with refreshable Braille cells and tactile keyboard instead of a touch screen. The latest update for this device includes more blind-friendly versions of popular programs such as Microsoft® Excel™ and PowerPoint™, Dropbox™, YouTube™, Twitter™, Facebook™ and more that have largely been inaccessible or cumbersome for blind computer users until very recently.
http://hims-inc.com/products/braille-edge-40/Braille EDGE 40 Braille Display – A keyboard/monitor alternative for the blind that has refreshable Braille cells and an 8-button (Perkins-style) keyboard that corresponds to the 8-cells needed to create Braille text. This versatile tool can be used to navigate and use iPads, iPhones, Android Tablets and Phones, PC's, MacBooks and Apple desktop computers. It also has some basic built-in applications for scheduling and taking notes that make it a great companion products for students and professionals that don't want to carry multiple products into classes or meetings.
HIMS Inc. President, James McCarthy, who is himself legally-blind shared, "People are very excited about many of our newest product innovations this year and have been waiting anxiously to try them out for themselves. " He continued, "These aren't the type of products you can simply read about and buy online. They're tactile and fulfill needs at the very core of daily living, education and employment. These are products people really want to try out in person; especially considering much of our customer base is severely visually impaired. For them touch and feel is of the utmost importance."
For more information about any of the conferences listed above, visit http://www.hims-inc.com/events. To learn more about HIMS assistive technology products, visit http://www.hims-inc.com/products or call 888-520-4467 to speak to an assistive technology specialist right away.
Since its founding 15 years ago, HIMS has been devoted to improving opportunities for the visually impaired through the development of technology products for the blind and low vision. HIMS Inc., an Austin, Texas-based company that specializes in assistive technology products is a wholly owned subsidiary of HIMS International Corporation.