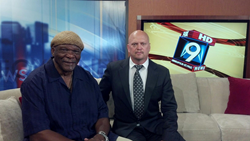 Minneapolis, MN (PRWEB) October 31, 2014
Former Minnesota Viking great and NFL Hall of Famer Carl Eller a.k.a. "Moose" has been a busy man. Earlier this week, David Gergen of Pro Player Health Alliance (PPHA) announced that Carl Eller has just partnered with Naturs Design, Inc. makers of the RemZzz's® CPAP mask liners. A few months ago Carl was diagnosed with sleep apnea and began using RemZzzs® mask liners with his CPAP mask during therapy. "Carl can speak from personal experience, his voice will be heard by professional athletes and sleep apnea patients nationwide," says Bob Rutan founder of the RemZzz's® mask liners.
In addition to Carl Eller teaming up with the folks at RemZzz's, he has also been named as the Honorary Captain for the Minnesota Vikings this week as they prepare to take on the Washington Redskins at TCF Bank Stadium in Minneapolis. As a member of the famed "Purple People Eaters", Eller tormented opposing offenses and racked up over 130 sacks, making him the Vikings all time sack leader. During his playing career, he played in 4 Super Bowls and was selected to 6 Pro Bowls.
The partnership between RemZzz's and Carl Eller has become known as "It's a Game-Changer." The official launch will be Nov 2, 2014 at the Minnesota Vikings home game. NFL Hall of Famer, Carl Eller "Moose #81" will be tailgating along with Bob Rutan, David Gergen and others from the Naturs Design/PPHA team. Keep an eye out for the big purple RemZzzs® bus, Carl Eller a.k.a. "Moose" will be there to talk, give autographs and pose for pictures. Free samples of RemZzzs® CPAP mask liner product will be available.
About RemZzzs®
March 2007 - Product, RemZzzs® developed by Robert Rutan
Nov. 2008 - Robert and Deborah Rutan formed Naturs Design Inc in state of Michigan, to sell newly developed product RemZzzs®
Jan. 2009 - Launched website (http://www.RemZzzs.com) and began business officially
RemZzzs® is a Class 1, FDA Exempt, Medical Device
RemZzzs® is patented in the USA, Australia, Canada, China, Israel, and patent pending in several more countries
100% made and manufactured in the USA
Currently have 15 employees
Corporate office is in Jackson, Michigan
About Pro Player Health Alliance
Pro Player Health Alliance (PPHA) is an organization dedicated to helping former NFL players, through providing testing and treatment options for those who suffer from sleep apnea. In addition, the PPHA is dedicated to integrating education and raising sleep apnea awareness, in a fun and memorable way. In addition to the campaign, the PPHA is dedicated to testing and getting people treated who suffer from sleep apnea. This has been stepped up by working though The Living Heart Foundation and its HOPE program sponsored by the NFLPA. The PPHA was created David Gergen, President of Gergen's Orthodontic Laboratories and Former NFL legends.
About David Gergen
David Gergen, CDT and President of Pro Player Health Alliance, has been a nationally respected dental lab technician for over 25 years. He received the award for "The Finest Orthodontic Technician in the Country" given by Columbus Dental in 1986. He also has been appointed Executive Director of the American Sleep and Breathing Academy Dental Division, a national interdisciplinary academy dedicated to sleep training and education with over 60,000 members. David rolled out of bed on December 4, 1982 and had his career "ah ha" moment. He knew he was going to be an orthodontic technician and he knew he was going to help people all over the country to help treat their sleep disorders in partnership with their dentists. He has worked for some of the pioneers in the orthodontic and sleep dentistry fields. He was the personal technician for the likes of Dr. Robert Ricketts, Dr. Ronald Roth, Dr. A. Paul Serrano, Dr. Clark Jones, Dr. Harold Gelb, Dr. Joseph R. Cohen, Dr. Rodney Willey, Dr. Allan Bernstein, and Dr. Thien Pham. One of his proudest achievements is receiving The National Leadership award for Arizona Small Businessman of the Year in 2004.