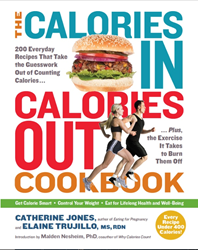 The Calories In, Calories Out Cookbook is the perfect balance of making smart food choices, cooking them and liking what you see in the mirror down the road! The Feathered Quill
Bethesda, Maryland (PRWEB) November 03, 2014
Catherine Jones and Elaine Trujillo, MS RDN, the authors of The Calories In, Calories Out Cookbook (The Experiment, 2014), offer five tips to keep the pounds off this holiday season. The first and most effective way is to journal, either with a weight-loss app or the old-fashioned way with paper and pencil. Apps will automatically track calories, but on-line counting works well, too. Optimal daily calorie intake can be determined using an app or a formula on-line.
The second habit to embrace is weighing regularly: twice a week in the morning before eating or drinking. Weigh-ins are admittedly not fun, but they keep us honest. Clothing can also be an indicator of weight gain - when zippers don't zip and buttons don't button - however elastic waist bands are an easy way to get around this problem.
A third piece of advice is to make a conscious decision not to snack during the holidays. America is a nation of snackers with chips and chocolate preferred. According to Critical Reviews in Food Science and Nutrition (2014), "the proportion of daily energy coming from snacking has increased in all adult age group in the U.S. from 1977 to 2006, with both energy and portion sizes of snacks increasing. It was estimated that the number of eating occasions in U.S. adults contributed an increase of 39 calories per day … yet energy consumption at subsequent meals is not always reduced or compensated, which could lead to weight gain."
The easiest way to avoid snacking is simply not to purchase snacks. Keep them out of the house, office, and car. Drink water or unsweetened green tea instead of snacking. If snacks are essential, make them as healthy as possible, such as fruit, vegetables, yogurt, and nuts. Aim to steer clear of the sweet, processed stuff.
Movement is key to maintaining weight and health. Scheduling exercise can make it happen. Already time-crunched lives become even more congested during the holidays, both at work and socially. Making exercise a priority by blocking time is a great way to stay on track. Travel during the holidays can derail regular exercise plans. Pack walking or running shoes to stay motivated. Even a brisk walk can work wonders.
The final piece of advice is to have an eating strategy in mind. This also includes a drinking plan at parties and social gatherings. Take small bites or sips of everything. Deprivation often leads to over indulgence in the end, so best to embrace moderation as a mantra. Ideally, part of the eating plan should be to cook and eat at home as much as possible. The mission of the authors' 400-page tome is to promote a healthy lifestyle through cooking at home and stepping up exercise to achieve energy balance. The Midwest Book Review called The Calories In, Calories Out Cookbook "one of the most 'user friendly' combinations of healthy recipes and fitness exercise instruction manuals available today for the non-specialist general reader wanting to improve the health of themselves and their loved ones. Informed, informative, immanently practical, exceptionally well written, organized and presented."
CATHERINE JONES is the award-winning author or coauthor of numerous cookbooks including Eating for Pregnancy, and, with Elaine Trujillo, Eating for Lower Cholesterol. She is the co-founder of the nonprofit Share Your Calories, an app developer, blogger, and freelance journalist. ELAINE TRUJILLO, MS, RDN, is a nutritionist who has years of experience promoting nutrition and health and has written numerous scientific journal articles, chapters and textbooks.