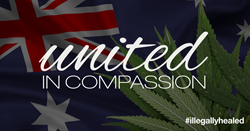 The effect of cannabis on cancer is one of the most important aspects of medicinal cannabis.
Denver, CO (PRWEB) November 04, 2014
Medical cannabis reform has been taking the world by storm, and Australia is next on the list to implement change. To help accelerate this progress, The Inaugural Medicinal Cannabis Symposium is taking place in Tamworth, Australia. The event will educate politicians, media personnel, and the general public about the desperate need for and utility of medicinal cannabis.
Experts from around the world are convening to participate in this first-of-its-kind event. Each speaker has distinct experience or knowledge regarding the use of medicinal cannabis, and together will provide irrefutable evidence that medicinal cannabis access and research is desperately needed. Justin Kander, a producer at Illegally Healed, is one of the many speakers who will be presenting at the two-day event November 21 and 22, 2014.
For almost the past seven years, Kander has been researching and documenting the use of cannabis extracts to treat cancer. This particular use of medicinal cannabis has grown from an obscure application to being relatively mainstream. For example, the United States Food and Drug Administration recently granted (09/24/14) orphan drug designation to a pharmaceutical cannabidiol (CBD) product to directly treat glioma, a rare form of brain cancer which responds poorly to conventional treatments. Orphan drug designation is distinguished from orphan indication, a term used when an already-existing drug is approved for additional use in an orphan (affecting less than 200,000 people) condition.
"The effect of cannabis on cancer is one of the most important aspects of medicinal cannabis," said Kander. "The scientific and anecdotal evidence which has accrued over the past several years is overwhelmingly clear that cannabis has a significant anti-cancer effect in humans, and it is time for governments and medical organizations to acknowledge that."
Justin Kander is a producer at Illegallyhealed.com and an advocate for the use of cannabis extract medicine to treat cancer. He previously interned with Students for Sensible Drug Policy, one of the nation's leading drug policy reform organizations.
In 2013, Justin completed the Comprehensive Report on the Cannabis Extract Movement, a 100-page report that examines and analyzes the mounting evidence in support of cannabis extracts as medicine. He presented his findings at the International Drug Policy Reform Conference in Denver the same year.
For more information about Justin Kander and Illegally Healed, please visit: http://illegallyhealed.com.
About Advocate Media Group:
Advocate Media Group is multi-media agency that has created Illegallyhealed.com to help raise public awareness about the treatment potential of cannabis. The site includes information and resources to help people seeking alternatives to help cope and potentially lead to a solution for a variety common health problems. To find find out how you can help Advocate Media Group with public awareness campaigns, please visit: http://illegallyhealed.com