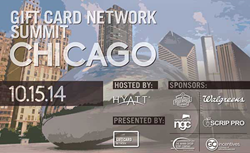 "The GCN summits are a unique opportunity for a diverse group of industry stakeholders to understand each other better." - Matt Davies, Powerhouse Brands
Vancouver, WA (PRWEB) October 31, 2014
In 2013, Gift Card Network members decided to host a on ongoing series of summits focused on gift card industry collaboration and brainstorming. A number of small regional summits was chosen as the method to execute these events in order to create an intimate atmosphere in which to better network and meet others. The membership has made great strides in building networking opportunities and educational content within a collaborative group setting, and has seen a surge in member attendance.
The network held its first event in June 2013, in Minneapolis, which was hosted by Travel Tags. The event was held onsite at Travel Tags Card Manufacturing HQ and gave members a hands-on opportunity to experience an agenda built by its members, for its members. Due to the positive feedback attendees provided their peers about the first event, members quickly signed up to host future events. During the past two years, quarterly regional summits have been held in Minneapolis, Toronto, Seattle and Atlanta, culminating in its most recent summit in Chicago. Past Gift Card Network Member hosts include: Travel Tags, Givex, Powerhouse Brands, REI, Neenah Paper and Hyatt Hotels.
The Gift Card Network has created short video overviews of these summits: Minneapolis Summit, Seattle Summit.
Each summit features collaborative discussion on relevant case studies, and content is generated from the event's activities by Powerhouse Brands Consulting, the network's media partner, and made available to GCN members. Additional event details and RSVP information on upcoming GCN Summits in Nashville and Vancouver, BC is available here.
About the Gift Card Network:
The Gift Card Network is a the first gift card-specific marketing and collaboration platform. The network focuses on the identification of vital issues in the gift card industry and empowering its members to address these issues using connection, collaboration, and creativity. Members include companies that focus on the gift card industry. Find Everything Gift Card at thegiftcardnetwork.com.
About Powerhouse Brands:
Powerhouse Brands is a gift card management firm, specifically focused on providing consulting, management, marketing, and media creation services to the gift card industry. Visit powerhousebrands.com for more information.