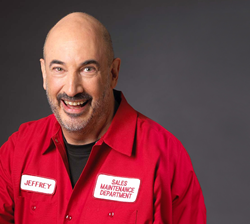 San Jose, CA (PRWEB) December 16, 2014
The culture around sales has shifted significantly in the past few years. Specifically, buyer attitudes towards sellers have changed dramatically, and the old sales techniques don't work anymore. Simply put, no one likes it when a pushy sales person approaches them and goes for the hard sell. Modern buyers don't want to be sold... but they do want to buy.
CONNECT! Online Radio for Professional Sellers is closing out its 2014 season with a bang! Jeffrey Gitomer will appear live for an exciting one-hour interview on December 20 at 9 am Pacific time. Gitomer, the author of 12 best-selling books including "The Sales Bible" and "The Little Red Book of Selling," will share with listeners his insights to buyer rationale, why buyers buy, and how professional sellers can use this knowledge to get buyers to say yes every time.
Program host Deb Calvert will conduct the interview with Gitomer, incorporating questions submitted beforehand and live by listeners. The CONNECT! Online Radio Show for Selling Professionals is dedicated to helping sellers connect with buyers so they can cut out continuances, put an end to pending and stop stalling out.
To submit questions for Gitomer and Calvert before the live broadcast, listeners can send an e-mail to deb(dot)calvert(at)peoplefirstps(dot)com. To join the live broadcast and submit chat questions or call in directly, listeners are invited to go to the show's website.
An archived version of this program will be available after it airs at the iTunes Store CONNECT1 or at the website listed above.
CONNECT! Online Radio for Selling Professionals is sponsored by People First Productivity Solutions, a sales training firm dedicated to building organizational strength by putting people first. Deb Calvert, founder and president of PFPS, formed the CONNECT! Community to support sellers at all stages of their selling careers.