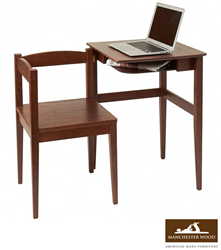 Manchester Wood provides great home furniture shopping choices this Holiday season.
GRANVILLE, NY (PRWEB) November 02, 2014
Throughout the holidays, Manchester Wood: American Made Furniture is offering a gift guide page on select products that they find as great shopping choice items. Also discounts and sales will be offered throughout the season storewide and on particular solid wood furniture items as well, including the popular Oval Cherry Coffee Table and Chairside Drawer Table, as well as their famous folding Adirondack Chair, and new items such as the Compact Workstation Table and Nesting Shaker Tables.
Along with numerous sales on their 100% Made in USA solid wood furniture that's made at their "mill" in the foothills of the Adirondacks in Upstate New York, the American made furniture manufacturer and retailer will be offering a free Tray Table giveaway for the month of November on Gratitude, and another free product giveaway to be announced in December. Interested entrants are suggested to visit ManchesterWood.com for further giveaway details.
As the holidays move along, Manchester Wood's social media and blog will be active with product spotlights including a rotation on each products unique backstory in the holiday guide, as well as news from around the factory and its busiest time of year, shipping deadlines, and general merriment are expected too around a holiday season they feel showcases their best offering yet of handcrafted solid wood furniture.
About the Company: Manchester Wood has designed and produced quality, affordable, eco-friendly solid wood American made furniture in the Green Mountains of Vermont and Adirondack foothills of New York for nearly 40 years. Free Shipping on every order backed by a Quality Guarantee.