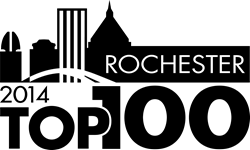 D4 is powered by our people, and five years of continued year-over-year growth is due to their dedication both to our clients and to the technology behind our solutions
Rochester, NY (PRWEB) November 03, 2014
D4, LLC, a national leader in providing managed services, litigation support and eDiscovery solutions to law firms and corporate legal departments, announced today that the company has been recognized as one of Rochester's Top 100 for 2014, ranking 18th on the list. An annual program by the Rochester Business Alliance and KPMG, LLP, the Rochester Top 100 ranks the fastest-growing privately held companies in the nine-county upstate New York region.
"We are thrilled to have been named to the Rochester Top 100 list for a fifth consecutive year," said John Holland, D4's founder and CEO. "It is truly an honor to be recognized as a thriving company in our hometown. D4 is powered by our people, and five years of continued year-over-year growth is due to their dedication both to our clients and to the technology behind our solutions."
D4 has grown operations significantly in 2014. The company recently expanded its Chicago footprint by acquiring Strategic Document Solutions (SDS) to add discovery, imaging and litigation support expertise and resources to D4's Midwest presence. Earlier this year, D4 upgraded its capabilities in New York City with the expansion of its regional headquarters to accommodate revenue and employee growth.
Headquartered in Rochester since its founding in 1997, D4 continues to experience growth both locally and nationally.
About D4, LLC
D4 is a leading national provider of electronic discovery, computer forensics, information governance, litigation support and deposition services to law firms and corporations. D4 was one of the first providers to offer an eDiscovery Managed Services solution, eNtrust, which launched in 2011. D4 has been instrumental in helping customers realize up to a 70% cost reduction over previous eDiscovery solutions. The company's state-of-the-art data center operations in Rochester are complemented by electronic discovery and litigation support offices throughout the country. D4 has been recognized by Inc. Magazine as one of the fastest-growing private companies in the US for four consecutive years. Visit http://www.d4discovery.com for more information.