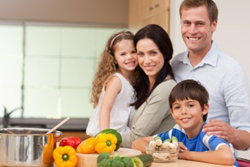 To reap the most benefit from introducing fish into your family's diet once or twice a week, it is best to serve baked or grilled fish and seafood. -Dr. Marta Katalenas
Austin, TX (PRWEB) November 04, 2014
As part of a 12-month resolution challenge designed to help families eat nutritious foods and become physically active, Dr. Marta Katalenas, an Austin, TX pediatrician, recommends eating fish once or twice a week, beginning in November. By eating meals consisting of fish on a weekly basis, families can prevent certain diseases and chronic illnesses.
According to an Elsevier report, "Omega-3 fatty acids, more commonly known as fish oil, have a long list of health benefits, including lowering the risk of heart disease and reducing triglyceride levels. These nutritional compounds are also known to have antidepressant and anti-inflammatory properties."
In a recent article, Dr. Katalenas offers a baked fish recipe for parents to make for the November Resolution challenge. The recipe consists of Tilapia fillets, served with cauliflower and broccoli. The dish serves four people, and can be prepared in about half an hour.
Even though Dr. Katalenas encourages the introduction of fish into weekly meals, she does advise against eating fried seafood. "Keep in mind that the preparation of your family's fish must be considered," explained Dr. Katalenas, "To reap the most benefit from introducing fish into your family's diet once or twice a week, it is best to serve baked or grilled fish and seafood."
Exercise and healthy living advice from Dr. Katalenas can be found in her book "The Step Up Diet: Quality, Quantity, and Timing". Case studies detailed in the book describe how physical activity and nutritious meals improved the health of children that were once unhealthy and unwilling to exercise.
Families can adopt monthly resolutions created by Dr. Katalenas on her website at http://www.DrKatalenas.com that will help them make easy changes to become healthier and stay on track throughout the year.
About Dr. Katalenas
Dr. Marta Katalenas is a board certified pediatrician and owner of the Pediatric Center of Round Rock. She is a public speaker and author of the book "The Step Up Diet: From Scratch… The Quality, Quantity, and Timing Solution to Childhood Obesity," a guide to healthy cooking and eating for busy families.
http://www.DrKatalenas.com