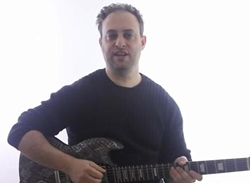 Suspended chords or sus chords are great different kind of rock sound and used in jazz
(PRWEB) November 02, 2014
"Suspended chords or sus chords are a great, different kind of rock sound and used in jazz", says Johnson, "they have an open sound that is different and exotic and can get you out of a rut". Claude demonstrates a variety of ways to play the suspended chord using both bar chords and open chords and incorporates them into chord progressions so you can hear the variety of sounds you can get. The two most common suspended chords are sus2, where the 3rd degree of the chord is omitted and replaced with the 2nd degree and the sus4 where the 3rd is replaced with the 4th degree. A great example of this kind of chord progression is in the intro to the song Free Falling by Tom Petty in which chord progression is D to Dsus4 back to D and then to Dsus2. This type of chord progression is heard frequently in the rock genre. More easy guitar lessons on these types of chords can be found at GuitarControl.com.
A Suspended Chord is a musical chord where the major or minor third is omitted and usually replaced with either the major second or the perfect fourth. The lack of the third creates an open sound to the chord.
Claude Johnson
Claude Johnson, a native of Philadelphia PA, began playing guitar in 1990 after being inspired by players like Jimi Hendrix, Eric Clapton, and Stevie Ray Vaughn. He is the creator of GuitarControl.com and has helped 1000's of people to learn to play the guitar with his critically acclaimed instructional DVD courses, all available at GuitarControl.com
About GuitarControl.com
GuitarControl.com is the leader in modern guitar instruction. It's packed with recourses including articles, video lessons, and the best videos in the business for the beginner to the advanced guitar student taught by the best instructors out there. Whether you are into the blues, rock, jazz, metal, folk, or anything in between, they have you covered.