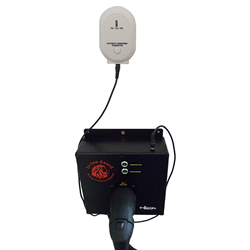 "We love this product - and we're going to recommend it to our customers."(Prominent electric vehicle manufacturer)
Golden, CO (PRWEB) November 05, 2014
Li-Ion Guard EV Surge Protector is targeted at plug-in electric vehicle owners who want to protect their investment from nearby lightning strikes, brownouts, and interference from household appliances. There have been many reports of serious damage to unprotected vehicles.
This product offers easy plug-and-play installation with existing 240 VAC outlets and hard-wire capability for electricians installing NEMA 240 VAC outlets. With a nano-second response time, Li-Ion Guard absorbs surges of up to 150,000 amps, protecting the car's lithium-ion battery, external charging cable, on-board cabling and sensitive electronics.
A built-in current sensor links to an optional wireless energy consumption monitoring system. The downloadable free app for computer, tablet or smartphone allows the vehicle owner to access:
➢ Real time kW consumption.
➢ Accumulated kWh over any time span.
➢ Dollar-cost of energy consumption customized for local power company rates.
➢ Equivalent carbon footprint emissions based on kW hours used.
Li-Ion Guard is available now at evsurgeprotection.com, allthingsteslas.com and amazon.com for consumers and at inlogisinc.com for electrical contractors.