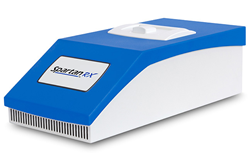 'Personalized medicine is moving from the research lab to clinical practice, and there is a tremendous opportunity to improve patient care and save healthcare costs.' - Paul Lem, M.D., CEO of Spartan Bioscience
Ottawa, Ontario (PRWEB) November 04, 2014
Spartan Bioscience announced today that it will host a corporate workshop on rapid CYP2C19 genetic testing at the Association of Molecular Pathology (AMP) 2014 Annual Meeting in National Harbor, Maryland.
The workshop will feature a distinguished guest lecture by Derek So, M.D., F.R.C.P., Interventional Cardiologist at the University of Ottawa Heart Institute (UOHI). He will discuss his experiences with personalized antiplatelet therapy using the Spartan RX CYP2C19 System. The sample-to-result system has FDA 510(k) regulatory clearance, and is being used in landmark clinical trial called "TAILOR-PCI" that is sponsored by the Center for Individualized Medicine at Mayo Clinic.
AMP attendees, analysts, investors, and media representatives are cordially invited to join this event on November 12, 2014 from 9:00-10:00 a.m. EDT in Room Maryland (Ballroom D) at the Gaylord National Resort & Convention Center.
Spartan will also be exhibiting at Booth #1110 from November 12-15 at the AMP meeting. The booth will feature demonstrations of the Spartan RX CYP2C19 System. Charudutt Shah, Spartan's Director of Business Development, may be contacted to arrange meetings.
"AMP is a leading community of medical and laboratory professionals, and we are excited to share the advantages of rapid genetic testing with the Spartan RX CYP2C19 System." said Paul Lem, M.D., CEO of Spartan Bioscience. "Personalized medicine is moving from the research lab to clinical practice, and there is a tremendous opportunity to improve patient care and save healthcare costs."
About CYP2C19
The CYP2C19 enzyme metabolizes approximately 15 percent of all prescribed drugs, including important drug classes such as antiplatelet therapies, beta blockers, antidepressants, proton pump inhibitors, and anti-epileptics.(1) About 30% of Caucasians, and more than 50% of Asians and Indians, carry CYP2C19 gene variants that reduce response to drugs metabolized by CYP2C19.(2,3,4,5)
About Spartan Bioscience
Spartan Bioscience is the leader in on-demand DNA testing.(6) Spartan is bringing complete sample-to-result DNA testing systems to medicine. Spartan's technology fully integrates DNA collection, extraction, and analysis, with an intuitive interface that is easy to operate. For the first time, healthcare providers and their patients can get DNA results on demand. For more information, please visit our website at: http://www.spartanbio.com.
The Spartan logo is a registered trademark of Spartan Bioscience Inc.
Plavix is a registered trademark of Bristol-Myers Squibb/Sanofi Pharmaceuticals
Inderal and Losec are registered trademarks of AstraZeneca
Celexa is a registered trademark of Forest Pharmaceuticals
1. dbSNP Short Genetic Variations. Reference SNP (refSNP) Cluster Report: rs12248560
2. Damani SB, Topol EJ. (2010). J Am Coll Cardiol. 56:109–11.
3. Chen M et al. (2011). Atherosclerosis. 220(1):168–71.
4. Oh IY et al. (2012). Heart. 98(2):139–44.
5. Jose R et al. (2004). Fundamental & Clinical Pharmacology. 19(1): 101–105.
6. Roberts JD et al. (2012). Lancet. 379:1705–11.