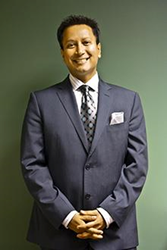 I love to change the lives of my patients with the miracle of dental implants.
Chicago, IL (PRWEB) November 03, 2014
No one should die with their teeth in a glass! For patients suffering with uncomfortable and painful dentures, and those patients living with unsightly partial bridges causing even more damage to their remaining teeth and gum line now, there is a clinically proven treatment option, using FDA approved materials and techniques for replacing missing or non-functional teeth.
All-on-4 Dental implant method is regarded as the modern standard of care for patients who have lost most or even all of their natural dentition to the ravages of gum disease, and it delivers the most sophisticated teeth replacement solution available on the market: "All-on-4" dental implants. While this technique for fixed oral rehabilitation has only seemed to gain notoriety in the public conscious in recent years, it has been around since the early 1990's.
This month marks the 500th full mouth reconstruction experienced Chicago implant dentist, Dr. Irfan Atcha, has done since he mastered the technique under the instruction of the very scientist who pioneered the protocol, Dr. Paulo Malo. To put this achievement into perspective, it officially makes Dr. Atcha one of the most experienced dental implant dentist in Chicago! Add the in-excess-of 1,000 other dental implant procedures, and you have a man who has changed the lives of countless Chicago and Northwest, IN, residents who had long since given up on the idea of ever being able to enjoy a healthy smile again.
"I love to change the lives of my patients with the miracle of dental implants. My own mother and my mother-in-law both are enjoying their foods and smiling better with their All-on-4 implant teeth now," says Atcha.
Dr. Atcha's Dental Implant Practice
New Teeth Chicago Dental Implant Center is a full service dental office that provides total dental care with heavy focus on Dental implants and Cosmetic Dentistry to the Chicago land community in the most comfortable, relaxed and a compassionate manner to their patients and their families. New Teeth Chicago is a talented team of leading professionals honoring their word and committed to service, education, health and happiness provided in a fun atmosphere.
For more information, visit http://www.newteethchicago.com. Dr. Irfan Atcha has been in private practice for nearly two decades, offering the community a comprehensive range of dental services, from routine check-ups and cleanings to some of the most complex and sophisticated dental implant techniques on the market, including the "All-on-4." Patients from all over Chicago and the neighboring state of Indiana routinely make the journey to Dr. Atcha's practice to have their dental problems seen to because of his formidable reputation as a dental implant dentist and cosmetic dentist in Chicago.