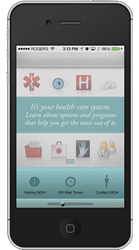 We are very proud to have our mobile applications showcased amongst the best mobile health care applications by the Ontario Hospital Association
Toronto, Ontario (PRWEB) November 03, 2014
The Norfolk General Hospital's Norfolk General Hospital's mobile health app, developed by Purple Forge will be on display at the mHealth Hub at this year's HealthAchieve conference. HealthAchieve has long been one the largest and most respected events in North America, becoming the preeminent gathering place for health care and business leaders.
"We are very proud to have our mobile applications showcased amongst the best mobile health care applications by the Ontario Hospital Association," said Gail Johnson, NGH Vice President of Patient Care. "This again reinforces the direction we have taken in building mobile applications for better engaging the community with the goals of promoting healthy living, lessening wait-times and helping to reduce the costs of providing health care."
The Norfolk General Hospital mobile health application provides "on the go" information, helping to create a healthier community for all. Features include: information about available care options, location of care centres, visitor information, wait-times, and support.
"The Ontario Hospital Association has been a strong supporter of firms delivering technology to improve the quality of care between hospitals and their communities," said Brian Hurley, President and CEO of Purple Forge. "We believe other hospitals would strongly benefit from the experience Norfolk has had in using mobile health apps for engaging their community."
Purple Forge is a leading provider of mobile applications to health care and wellness organizations in Canada, including the OSI Clinic Network mobile apps for Canada's veterans and first responders, the RISE app for the Ottawa Coalition to End Violence Against Women and Dr. Marjorie Dixon's IVF4U Fertility Application, which reached the #1 rank for downloaded health apps in 2012.
About Purple Forge
Purple Forge sells subscription based services to organizations looking to engage their stakeholders using the latest mobile application technology and leveraging community engagement and social networking best practices. Purple Forge is an award-winning firm led by seasoned mobile communications and Internet technology veterans. Our mobile applications allow organizations to broadcast, share, and receive feedback from their target audience real-time, allowing them to foster long-term, engaged relationships.
Contact: John Craig, john.craig(at)purpleforge(dot)com
About Norfolk General Hospital
Norfolk General Hospital is a full service hospital conveniently located in the town of Simcoe, serving Norfolk County and surrounding area. NGH is home to health care professionals dedicated to excelling in their sphere and focused on the well-being of their patients and community. Norfolk General Hospital is one of the largest employers in the area, and is also recognized as having one of the highest rates of volunteerism in the Province.
Contact: Gerry Hamill, ghamill(at)ngh(dot)on(dot)ca