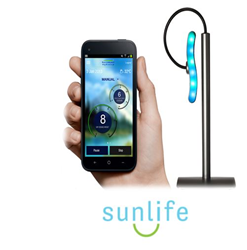 BOSTON, MA (PRWEB) November 03, 2014
With the end of daylight savings time, more and more workers find themselves falling victim to a variety of conditions caused by a lack of sunlight, most notably Seasonal Affective Disorder (SAD). The Sun LifeLight is a new app-controlled light therapy device that provides the recommended amounts and proper wavelengths of "sky blue" LED lights to help counteract the onset of sunlight deprivation. A recently published study sponsored by The Weather Channel and YouGov, indicated that 29 percent of adults in the U.K. experience symptoms of SAD at this time of year, ranging from low energy levels, to low self-esteem and anxiety (1) . Another study commissioned by Epson says that 9.6 million work days are lost annually due to Seasonal Affective Disorder (2).
The LifeLight is a new app-controlled light therapy device that provides the recommended amounts and proper wavelengths of "sky blue" LED lights to help counteract the onset of sun light deprivation. The LifeLight provides the modern workforce with a simple, effective and convenient device that learns your routine and customizes a light therapy regimen as an "Internet of Things" connected device, leveraging a growing multitude of external sensor-based inputs (such as weather and sleep quality) along with learning each user's personal preferences to algorithmically calculate the best amount of sunlight each and every day.
Sun LifeLight Can Improve Performance and Productivity
It is widely known that specific colored wavelengths of sunlight, 480nm (the brilliant light blue of a bright sunlit sky), are absorbed by recently discovered, non-visual receptors in the eye. These receptors, when activated by this colored light, initiate a complex sequence of events balancing hormone levels and orchestrating many other functions that help make the human body healthy, happy, alert, energetic and productive during the day.
"While daylight savings time was a good idea in an agrarian society, today's indoor workforce is already getting precious little sun light and is feeling the consequences in the form of Seasonal Affective Disorder and similar conditions. With even less sunlight following the end of Daylight Savings Time, symptoms can lead to significantly reduced productivity, and even loss of time due to associated health risks," says Alison Todd LICSW / ABD, Co-founder of Sun LifeLight.
"Most people who work indoors during the day, do not receive enough of that "sky blue" light regardless of geographic location, and this in turn can limit their peak performance, said Gary Grimard, Founder and CEO of Sun LifeLIght, LLC. "The LifeLight changes that paradigm by packing those effective colors of light into an elegant, stylish and highly flexible lamp that can be used on any desktop as one would an ordinary desk lamp."
Staples Fundable Crowd2Shelf Finalist
The LifeLight has been selected as a finalist by a panel of innovation experts including Fundable and Staples representatives in the [Staples Crowd2Shelf contest. Created by Fundable and sponsored by Staples, the Crowd2Shelf Contest drew thousands of startups across the country to compete for a chance to crowd fund their way to Staples' shelves. Of these thousands of entrants, only 25 were selected as finalists.
You can view Sun LifeLight's entry here. https://www.fundable.com/sun-lifelight . By purchasing a LifeLight or supporting Sun LifeLight with a vote, you can help it become one of the three category winners.
Sun LifeLight has also progressed to the third round in the XTC Extreme Tech Challenge, organized by MaiTiaGlobal and judged by the likes of Sir Richard Branson (CEO of Virgin Group.) Young Sohn (President & Chief Strategy Officer, Samsung) and Gary Shapiro (Producer of the CES-Consumer Electronics Show.)
About Sun LifeLight
Sun LifeLight, Inc. manufactures the first app-controlled, responsive and connected light therapy device designed for today's work stations. We are on a mission to create healthy, fun, exciting, energetic and productive work environments by bringing sunshine into everyone's life. We build smart, personal lighting systems that pack the colored light spectrum of a bright, sunlit sky into a fixture used as you would an ordinary desk lamp but controlled and managed by a learning mobile app that recommends the optimum amount of sun for every individual's maximum benefit. For more information visit http://www.sunlifelight.com