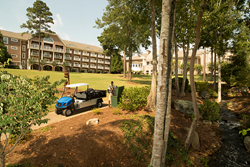 It's gratifying to be recognized for delivering utility vehicles with the power, fuel-efficiency and versatility grounds maintenance professionals and facilities managers need.
Augusta, Ga. (PRWEB) November 04, 2014
Club Car's new Carryall utility vehicles were selected by Landscape and Irrigation Magazine as one of the "Twenty for 2014" best new commercial landscaping and irrigation products of the year.
The products were judged by the editorial staff of Green Media, which publishes the magazine. Winners were selected based on innovation, marketability and applications, and listed in the October issue.
"We designed our new Carryall utility vehicles after gauging the needs of landscape contractors, grounds maintenance professionals and other users. It's gratifying to be recognized for our success in delivering the more powerful, fuel-efficient and versatile vehicles these customers requested," says Club Car's Commercial Product Manager Ross Lyons.
EFI-based Performance and Efficiency
The Carryall utility vehicle's best-in-class power, hill-climbing ability and fuel efficiency is based on its 14-hp-rated Subaru engine that's engineered around a chain-driven overhead cam and electronic fuel injection (EFI) and ignition technology.
"This, combined with a highly efficient drivetrain, lets our utility vehicle outperform competitive vehicles, even those with larger engines," says Lyons. Carryall utility vehicles also reduce emissions, improve reliability and cut maintenance costs.
"With the new engine and the vehicle's renowned durability, the Carryall utility vehicle bridges the gap between utility vehicles and more expensive pickup trucks," Lyons says.
A Task-multiplying Attachment System
The Carryall utility vehicle also delivers the fit-to-task versatility landscapers need. A configurable, track-based bed attachment system, known as VersAttach, organizes and protects equipment, boosts productivity and frees bed space to reduce round trips.
Ten VersAttach tools keep grounds crews moving from job to job. They include:

Standard, ratcheting and long tool holders
Backpack blower racks
Ladder racks
Short and long bed dividers
Cargo tie downs
Water cooler and fuel-pack holders (Coming soon.)
"VersAttach can be configured for specific jobs and reconfigured or removed in a snap," says Lyons.
The Carryall Utility Line
Carryall utility vehicles come with gasoline, electric or diesel powertrains; rustproof, corrosion-resistant aluminum frames; and the best overall warranty in the industry.
Models with the EFI technology are available in two-wheel drive, with an optional limited slip system that does almost anything a four-wheel drive can do, at much lower costs.
The largest models are available with a diesel engine and an automatic four-wheel drive system that senses the ground it's on and shifts automatically.
Club Car products are sold through Authorized Club Car Dealers. To find a dealer near you, visit http://www.clubcardealer.com.
About Club Car
Club Car, one of the most respected names in the golf industry, is the world's largest manufacturer of small-wheel, zero-emissions electric vehicles. The company's Precedent® golf cars and Carryall® turf utility vehicles are integral to successful operations at thousands of courses around the world. The company also offers a complete line of new and used golf cars, XRT™ utility vehicles and street-legal, low speed vehicles (LSVs) for personal use, all backed by Club Car's 50+ year legacy of superior design, manufacture and service. Club Car is part of Ingersoll Rand, and is based in Augusta, Ga. Visit http://www.clubcar.com.