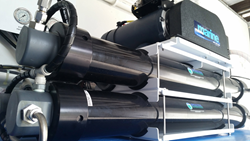 Water is life
Majuro, Marshall Islands (PRWEB) November 04, 2014
Combining energy-efficient Spectra Watermaker technology with wind and solar power, Moana Marine delivers pure drinking water to 1200 Bikini Islanders now living on remote Kili Island.
In 1946, the US government convinced the residents of Marshall Island's Bikini Atoll to yield their pristine homeland to nuclear bomb testing that would produce "kindness and benefit to all mankind." Believing their sacrifice would help humanity and assured that they would soon return, the Bikini Islanders agreed to leave. Two years later, their islands rendered uninhabitable by deadly nuclear fallout, they were evacuated to isolated and uninhabited Kili Island. To this day, they remain a people in exile.
Overtime, water quality on Kili has become a serious issue. The Bikini people have been plagued with water related health challenges, including chroninc skin disease and diarrhea. Local EPA testing of the drinking water reported that 97% of the water on Kili was undrinkable and needed to be boiled a minimum of 10-20 minutes prior to consuming, a major drain on their limited energy resources.
In May 2010, Tom Vance of Moana Marine, installed a wind and solar powered reverse osmosis desalination system on remote Marshall Island's Utrik Atoll, a first-of-its-kind in the Pacific Island region. It has been successfully converting sea water into pure, EPA-approved drinking water ever since, making life possible for the Utrik people. When it became evident that something had to be done to remedy the water crisis on Kili, the US Department of Interior (DOI) funded a water treatment plant/alternative energy project to be modeled after the Utrik installation. Moana Marine accepted the challenge.
Facing the treacherous sea conditions that exist on Kili that has neither harbor nor lagoon, Vance literally surfed the hi-tech machinery and materials from the supply ship to shore on a small skiff. Facing power outages, food shortages, and air and sea transport delays and breakdowns, Vance and his crew from Moana Marine overcame great adversity to install the state-of-the-art reverse osmosis water treatment plant powered entirely by wind and solar energy that began operation on October 15, 2014.
Two Spectra LB-2800 watermaking units now supply the community with 5600 gallons per day of pure, ph- balanced, mineral-enhanced drinking water. The solar array and wind turbine combination provides enough energy to run the RO machines, pumps, and UV sterilization, while feeding excess power back into the grid, creating a sustainable water future for the Bikini Islanders of Kili Island.
About Moana Marine:
Moana Marine (Majuro, Marshall Islands and Port Townsend, Washington) is a leader in designing, engineering and installing energy-efficient, wind and solar-powered water desalination and water treatment plants in remote locations. Moana Marine stands for reliability, sustainability and durability.
Contact: Tom Vance
425-440-0724, 692-455-8916
Email: tom(at)moanamarine(dot)com
http://www.moanamarine.com