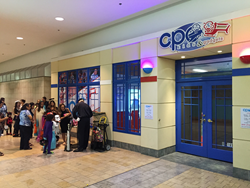 This is what I call 'adventure shopping,' where both consumers and sellers are willing to give up their marketing gimmicks and actually have fun.
Palm Desert, Calif. (PRWEB) November 02, 2014
CPO Kids & Gadgets, LLC announced today its soft opening. On Halloween Friday, October 31, 2014, CPO Kids & Gadgets began to introduce its first ever retail concept at Westfield Center in Palm Desert. All weekend, the concept store has given out Halloween treats, culminating in a soft opening at 6:00 p.m. November 2, 2014. Fun is planned all week as changes to the store occur as it iterates product and merchandising in advance of the busy holiday season.
The new, national retail challenger CPO Kids & Gadgets concept is aiming for its hard launch on Black Friday, November 28, 2014, the day when most retailers will read the tea leaves for the coming years' retail potential. There will be a series of special events and previews in November leading up to that date.
CPO Kids & Gadgets' management team includes former Virgin America founder and former Panasonic executive, Charles Ogilvie as Chief Executive and a solid base of partners, including local designers, sign experts, world-renowned retailer and mall genius Westfield Center, and even production and audio experts as far away as Tasmania, Jamaica and Canada.
Compared to last year, CPO Kids & Gadgets CEO Charles Ogilvie sees retail opportunity for new challengers in niche spaces, especially those with new concepts that explore true customer engagement, not just loyalty through discounting, as having a chance of success.
"When disposable income is challenged, this is what I call 'adventure shopping,' where both consumers and sellers are willing to give up their marketing gimmicks and actually have fun, versus 'utilitarian shopping,' where consumers buy what they need and deal hunt more and retailers play along with coupons or forced loyalty programs," remarked Ogilvie. "It takes two to tango! It also makes no sense to make consumers jump through hoops for promo codes, complicated loyalty programs, and price matching schemes if a retailer doesn't even learn something other than a consumer can tolerate gamesmanship! We intend to watch and learn from our consumers and have provided an environment that is able to do just that."
CPO Kids & Gadgets' strategy is to cultivate adventure shoppers and use their curiosity to help refine and hone the kids and gadgets concept this holiday season.
"If we can achieve that, we've learned a lot and have a platform for more win-wins," said Ogilvie.
The company's launch opened in a previously vacated marketing research company space at Westfield Center. The space and heritage of the previous on-site mall marketing research has intentionally been preserved by CPO Kids & Gadgets — as the concept of a learning boutique that learns from itself, just as marketing research firms do with focus groups and surveys, is uniquely poised for the space.
"What is interesting is that marketing research has shifted from physical surveys and focus groups and moved towards being augmented by advanced, multidimensional digital services such as Survey Monkey, sophisticated ad/keyword tracking from Google and others, as well as a lot of big agency and trend expert expertise in the digital space," stated Ogilvie.
He continued, "In fact, PSFK's 2014 Report on the #FutureofRetail was a key reference tool in helping design an ideal growth platform for CPO Kids & Gadgets. The industry is eagerly awaiting PSFK's 2015 report, and we are anticipating a few of our 2015 ideas that will also show general industry trends going forward.
"Old-school 'Mall Research' (physical engagement with people) should be in higher demand, and our learning boutique embraces the heritage of the space by leaving things like the former focus group room's one-way partition intact. In fact, the focus group monitoring room (the corporate customer watched product testing there previously) is now home to a test-bed for gadgets. Nothing in Palm Desert would be complete without its own putting green and that's built into the shopping equation."
The CPOK&G concept store has three primary areas:
(1) "0-1 Baby Room," which houses great gifts for the 0-1 infant market,
(2) "Toddler & Kids - Adventure Room," which houses everything from toddler riding toys, apparel to innovative learning games and gift ideas, and a
(3) "Big Kids: Gadget Gallery." What gadgets will be there one might ask. Everything is an experiment, and the product mix will change based on feedback and customer engagement. You'll have to come and see to understand the process.
Ogilvie noted, "The heritage of the previous tenant was something that worked very well with our learning boutique concept and was really a perfect first site for the team. Our product mix will be dramatically different in just 3 weeks and even better honed through the holidays and beyond. We are anticipating ramping up procurement and design capability to iterate, but only in areas that show relevance or resonate interest, curiosity or some other reason worth exploration.
"Only small, agile businesses or those who are intentionally customer-focused can even try to get closer to the consumers in this way. We never want a situation where we need to discount because we ordered to much or didn't find products that work for our guests. We want to build a brand that can communicate, not chase one-off sales to achieve power revenue curves around the holidays like so many merchants do this time of year. We are more like the 'Little Engine That Could,'" Ogilvie remarked, referring to a wonderful 1930s children's book that is still popular today: "Slow, steady and we're not giving up."
CPO Kids & Gadgets, LLC management anticipates that next quarter will see new product launches and targeted growth through its yet-to-be-deployed web channel, http://cpokidsandgadgets.com, and that it is already in consideration on additional locations to expand its concept experimentation and development phase.
CPO Kids & Gadgets, Palm Desert, will be in soft launch beginning Halloween and has a targeted hard launch on November 28, 2014, at 6 p.m. All media and special guests are requested to RSVP. Please e-mail pr(at)cpokidsandgadgets(dot)com for more information or to request an invite to a preview reception or VIP event held in the concept store in the days leading up to the Black Friday Grand Opening.
About CPO Kids & Gadgets
Privately held and headquartered in Palm Desert, California, CPO Kids & Gadgets is one of the nation's first challenger brands to emerge that focuses on the paired niche: Kids and Gadgets. It is the only learning boutique known of its kind, designed to use store learning to reinvent its product mix and drive iteration into the procurement process.
CPO Kids & Gadgets, LLC is a member of the Palm Desert Chamber of Commerce, and it tips its hat to local business and hopes more global focus will continue to come to Palm Desert as an area where business innovation can thrive. Many successful local businesses such as Guthy | Renker, Gary Cardiff Enterprises, Siemens, Eisenhower Medical Center, and others show the world that the community is ripe for growth in areas broader than what it is historically famous for: tourism, golf, spas, tennis and celebrity retreats, which CPOK&G admits are terrific as well.
CPO Kids & Gadgets, LLC has earmarked and intends to donate 10% of its 2015 profits to charities in the communities we serve and that are focused on the use of technology to better the environment as well as increase opportunities for youth. Our slogan is: "Kids & Gadgets are the Future of Palm Desert."
The Palm Desert area is easily accessed through flights to Palm Springs Airport (PSP) on many airlines including: Air Canada (AC Rouge to Vancouver), Alaska (Portland, OR and San Francisco, CA), Westjet (from Vancouver, Edmonton, Calgary daily, as well as Winnipeg and Toronto), Virgin America (from San Francisco, Allegiant Air (from Bellingham, WA), American (Chicago, IL, Phoenix, AZ San Francisco, CA and Dallas, TX), Delta (Minneapolis, MO and Salt Lake City, UT on Skywest), Frontier (Denver, CO), Sun Country (Minneapolis, MO), United (Chicago, IL, Denver, CO & San Francisco, CA on Skywest), and US Airways (Phoenix, AZ). (Source: http://psp.fltmaps.com/en)
For media inquiries, to be added to our distribution list, to receive more information on the upcoming hard opening, special media & VIP previews, and future plans, please email pr(at)cpokidsandgadgets(dot)com.
For fun, the concept store invites anybody to stop by during Westfield - Palm Desert hours, which are M-Th 10 a.m. - 8 p.m., Sat 10 a.m. - 9 p.m., and Sun 11 a.m. - 7 p.m.