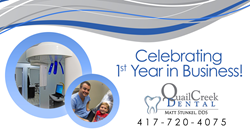 "Without dental insurance I didn't think I was going to be able to afford the dental emergency care I needed in Springfield. The care I've received from them was been great! I love that I have found such a great dentist!" -Tammy Lockhart
Springfield, Missouri (PRWEB) November 04, 2014
Quail Creek Dental celebrates first year serving Springfield and southwest Missouri.
Quail Creek Dental just completed its first year of providing dental services to residents of Springfield, Missouri and surrounding communities. During the past year, Dr. Matt Stunkel and staff built a state-of-the-art and family friendly practice with a rapidly growing clientele at 1440 W. Republic Rd. #144 in Springfield, MO. Dr. Stunkel is a local product who hails from Lebanon, Missouri and attended dental school at the University of Missouri – Kansas City. Through the founding of Quail Creek Dental, this dentist has brought compassionate and technologically advanced dentistry back to southwest Missouri.
Smile Services Offered
Quail Creek Dental offers services ranging from general dentistry to the latest improvements in cosmetic dentistry. Dr. Stunkel and staff perform routine wellness exams and cleanings along with restorative procedures like tooth fillings and crownings. Patients undergoing these procedures are assured maximum comfort and interaction at Quail Creek Dental through the use of advanced technologies such as heated and massaging dental chairs, intra-oral cameras, and high definition TVs that provide a dentist's eye view of the work being performed. Furthermore, this office sets its self apart from other local dentists by providing free second opinions on the necessity of any suggested treatment options. Quail Creek Dental's Smile Services can be found here.
#1 Invisalign Provider in Springfield
Cosmetic dentistry is rapidly advancing and Quail Creek Dental stays on the cutting edge of this field. Quail Creek Dental quickly became a leader in cosmetic dentistry in southwest Missouri during its first year in business, especially in regards to the use of Invisalign teeth alignment treatment. Invisalign is an alternative to traditional metal bracer and retainer therapy that involves creating a clear cast of the teeth that is worn and gradually altered over time to bring the teeth into proper alignment. Patients who receive Invisalign treatment at Quail Creek Dental are also provided professional teeth whitening as part of the package to compliment their newly aligned smile. Read more about scheduling a free assessment for Invisalign Clear Braces here.
#1 Emergency Dentist in Springfield
In addition to performing scheduled general and cosmetic dental procedures, Quail Creek Dental operates as the leader in emergency dental services in the greater Springfield, Missouri area. This office extends its business hours into the evenings and on weekends to accommodate the needs of any patient requiring emergency dental services. This saves patients from having to suffer needlessly with tooth pain or issues that if not taken care of rapidly can develop into much larger medical problems. By offering such services, Quail Creek Dental proves its compassion and value to the Springfield community. To schedule immediate service for a dental emergency in Springfield, Missouri call the office at 417-720-4075.