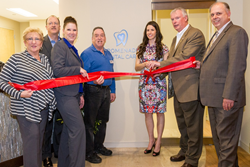 Fair Lawn, NJ (PRWEB) November 04, 2014
Fair Lawn's newest dental care office had its gala grand opening last Wednesday evening. Fair Lawn's Mayor John Cosgrove helped welcome the crowd and started the festivities by officially cutting the ribbon to announce that Promenade Dental Care is now open and accepting patients. Also in attendance were Dr. Yiska Furman and staff, members of the Fair Lawn Chamber of Commerce, and other community leaders.
Guests enjoyed refreshments while being shown around the beautiful new office. Promenade Dental Care is a paperless office and has installed state-of-the-art dental equipment designed to provide the most comfortable care available. While getting dental treatment, patients can sit back and relax in the heated massage chairs each equipped with its own television. The office has digital X-rays that emit 90% less radiation than traditional X-rays. Dr. Furman is committed to making sure patients understand and participate in every step of their treatment. According to Dr. Furman, "Patients better understand their treatment options when I use the chair-side television to show them the X-rays and close-up images of their teeth with the intraoral camera. When patients see and understand what is going on they become more comfortable and at ease."
Dr. Yiska Furman is a graduate of the prestigious University of Pennsylvania School of Dental Medicine. She completed her residency at Long Island College Hospital followed by two year intensive surgical and restorative implant studies at NYU. With over 500 hours of continuing education, well above New Jersey's requirement, Dr. Furman is highly skilled and is committed to providing excellent dental care at the Fair Lawn Promenade, which is centrally located on Route 208 North. Her office, Promenade Dental Care, is conveniently located next to Fair Lawn's first Starbucks and is easily accessible from all the surrounding towns. She has convenient office hours "before and after work" and Sunday appointments.
"Modern technology and personalized care will help patients stay healthier, and this will be more cost-effective in the long run," explains Dr. Furman. Comfortable financial arrangements are offered in her practice to help patients afford the dental care they deserve. Dr. Furman and staff can speak English, Spanish and Hebrew. Dr. Furman wants patients to be able to communicate in the language with which they are most comfortable.
Dr. Furman is excited to join the community. She looks forward to providing the residents of Bergen County with a positive and rewarding dental experience that focuses on meeting her patients' needs. For more information please visit the practice website http://promenadecare.com.