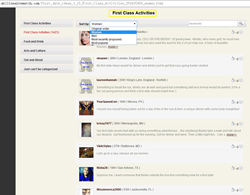 (PRWEB) November 03, 2014
MillionaireMatch.com, the internet's longest running dating site for millionaire singles, recently published an activities list of dating ideas written by its members. Till now there were 1423 dating ideas under the category of "First Class Activities". The list, which can be accessed without a membership, is focused on providing dating ideas for members with plenty of cash to burn. The ideas range from heading to Europe for a romantic getaway weekend to visiting a spa resort to pass the time in luxury.
The list allows any member to comment and "like" a post, so members that are trying to find popular ideas simply need to check the right side of the page to see which dating ideas are trending. Currently the idea file contains hundreds of comments to help other members get inspired and engaged with high-profile dating.
Many of the dating ideas are exclusive for members with plenty of cash on hand. Popular dates include jetting off to European cities, skydiving, and dining in upscale restaurants. "Cristina_Cris," from Milan, had a popular post suggesting "fine dining at a great restaurant, traveling to an exotic location around the world… (and) visit an art gallery or museum." Certain other members had a different idea of a perfect date. "Letting me hold your hand and your credit card," said "xo_ash" of Las Vegas, NV.
Still other members felt that spending a lot of money wasn't required to make it a successful date. "ToBeautifulToDie," a site member from Krakow, mentioned that going to the gym would be enough to make her happy. "Every kind of activity with a person you enjoy to spend the time can be fantastic," she said. And certain members of MillionaireMatch.com were more focused on how they wanted to feel rather than what they wanted to do. "The man I image beside me," said Sweetbonita892 of London, "should be first of all decent, very attractive, wise, many-sided…and interesting to talk to."
MillionaireMatch.com, which has been active since 2001, remains one of the internet's longest-running dating sites for millionaires, wealthy men, wealthy women, top-earners, and stars. The site gives high-earning individuals a chance to meet others like them from around the world to date, mingle, and find love.