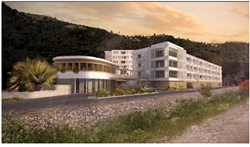 RED's team of professionals understands these complex transactions very well, which allowed them to help us balance the competing needs of
Columbus, OH (PRWEB) November 03, 2014
RED CAPITAL GROUP, LLC announced today it finalized a $16.5 million tax credit equity bridge loan for Sugar Estates Apartments in St. Thomas, U.S. Virgin Islands. The equity bridge loan to Michaels Development Company (MDC) provides funds needed for the construction of this 80-unit affordable seniors' property. The loan will enable the value of the tax credits and equity available for the project to be maximized through substantially delaying the timing of the LIHTC investor pay-in. Prestige Affordable Housing Fund and Boston Financial Investment Management (BFIM) served as co-syndicators on this $31 million project.
MDC is an affiliate of The Michaels Organization, which is among the leading private sector affordable housing developers, owners and managers in the nation. Under the ownership of 40-year real estate veteran Michael Levitt, The Michaels Organization owns 261 properties in 28 states and the U.S. Virgin Islands with a majority of the portfolio consisting of Section 8, LIHTC and Rural Development properties for family and age-restricted residents.
John J. O'Donnell, President of The Michaels Organization said, "RED worked diligently with numerous participants to provide an ideal credit solution that enabled us to develop an important project for our company and for the residents of St. Thomas."
Sebastian Corradino, President of Prestige Affordable Housing Fund added, "RED worked extremely well with the entire development and financing team to get this challenging transaction closed. RED's team of professionals understands these complex transactions very well, which allowed them to help us balance the competing needs of all of the players involved to achieve a successful closing." Corradino added, "We look forward to working with RED through completion of Sugar, as well as on future projects."
"It was an absolute pleasure working with MDC, Prestige and BFIM on this transaction. This equity bridge loan is unique given our lack of affiliation with the investor and tight placed-in- service timing, as well as for a development in St. Thomas," said Matthew P. Napoleon, Director at RED. Napoleon continued, "RED has many resources, including access to a $5 billion balance sheet from our parent company, and decades of experience in financing complex multifamily projects using our various capital sources to deliver the exacting results that our clients demand."

About RED CAPITAL GROUP, LLC
Recognized for its industry expertise, innovative and comprehensive structures, and consistently high rankings, RED CAPITAL GROUP, LLC has provided over $55 billion of integrated debt and equity capital since 1990 to the seniors housing and health care, multifamily, affordable, and student housing industries through three operating companies. RED Mortgage Capital, LLC is a leading Fannie Mae DUS® and MAP- and Lean-approved FHA lender with a mortgage servicing portfolio of almost $17 billion. RED Capital Markets, LLC (MEMBER FINRA/SIPC) is a leader in the distribution of Fannie Mae and Ginnie Mae Project MBS, and provides structuring, underwriting, placement, and advisory services for tax-exempt and taxable housing and health care bonds. RED Capital Partners, LLC provides proprietary debt and equity solutions, and asset management in a range of forms, including subordinated gap and bridge loans. RED CAPITAL GROUP, LLC is a subsidiary of ORIX USA Corporation.
About ORIX USA Corporation
ORIX USA Corporation is a diversified financial company with approximately $6 billion of assets in sectors spanning commercial finance, venture finance, commercial real estate and public finance, as well as $25 billion of assets managed for others. Operating subsidiaries include Houlihan Lokey, RED CAPITAL GROUP and Mariner Investment Group. Headquartered in Dallas, Texas, ORIX USA and its subsidiaries have more than 1,400 employees and offices in major cities including New York, Los Angeles, London and Tokyo.
ORIX USA is a wholly owned subsidiary of ORIX Corporation, a Tokyo-based, publicly owned international financial services company with operations in 35 countries worldwide. ORIX Corporation is listed on the Tokyo (8591) and New York Stock Exchanges (IX). For more information on ORIX USA, visit http://www.orix.com.
DUS® is a registered trademark of Fannie Mae