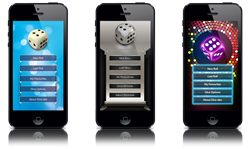 Dice-ider is decisions made easy
(PRWEB) November 21, 2014
Apps are the new gadget, there is no doubt, and it seems that the more it helps people in practical ways, the quicker and easier the adoption rate for users. Dice-ider is a new app that has just been released by 'Indi' developers Lindsay Lyon and Lisa Di Mambro. Its focus is on the common issue of indecisiveness, and states that it is so versatile that it can be used individually or for a group, professionally or personally. This is a simple decision making tool, and it's these kinds of niches that app developers are looking for, to aide everyday life.
By bringing focus on the modern world that is full of information overload, where the volume of decisions that are required to be made on a day to day basis has intensified, these developers and many like them, have found niches that are aiding users that are wanting a more simplistic life, that perhaps our ancient counterparts had. Lindsay Lyon commented that, 'We are in a time where we need to get back to a more simplistic, happier way of life. We need something that lightens our load, and brings some laughter and joy back into our everyday.' According to BrainFacts.org the average person needs to make thousands of decisions in a week period, and these new developers believe that the Dice-ider app is designed to lighten this load.
It is not the first time that the roll of a dice has been used to help people make decisions, or to challenge them about who they are, and what they desire. Since Ancient times throwing a dice has been believed to deliver a destined outcome, so much so that the roll of the dice was a way to choose rulers, so this idea of a dice in an application seems a natural progression of technology. 'This app is relevant, it's a melding of our past and present', Lisa Di Mambro stated, 'Some of the great people of our time, Albert Einstein, Ralph Waldo Emerson, Steven Hawking and Emily Dickinson have been quoted referencing the roll of the dice by the powers that be, an acknowledgement of the power of chance and perhaps evidence of our historical ties to a belief or a sense of fate.'
Dice-ider is an app determined to explore an easier lifestyle, that's more stress free and lighter in existence. It purports the promoting of a greater sense of enjoyment and play back into everyday decisions that must be made in our busy lives. Whether the decisions are big or small, one that may change destiny, the start of a lucky winning streak, or a way to add excitement to your choices, this app states that it's a solution to your decision dilemmas. Simply, it is an easier way to navigate through to a final decision. By entering two or more choices into this easy to use app, it will provide an instant answer with just the role of a customised dice. It can help with decisions about where to eat, where to dance, or what movie to watch. Or it could be used to make decisions that require the good luck and fortune of Lady Luck. Stocks and shares may glow under Fortuna's throw as in ancient days, or those romantic wonderings may be given the confidence required, if you need the proverbial shove. Settling times of indecision with family, friends and work colleagues by using Dice-ider, could add an element of game and play which could be quite useful, especially around holiday time.
This app is well structured for ease of use. The user enters two or more options, and then shakes their phone or flicks the screen, the roll begins and the answer is on its way, it then gradually slows to reveal the answer. Dice-ider has three styles to choose from so the user can personalise the look, these are quite diverse in range, which works well. Stylish, professional and business is the Classic style, the Chrome style has strong lines, is very masculine and machine like, and the Neon style is playful, fun and a bit kitschy crazy. It is simple, it has a happy feel to it, and it is a lot of fun, especially between two or more people. It can store any favourites you may have and has a normal game dice, a yes/no dice and a loves me/loves me not dice. You can share your Dice-ider decision options and answers on any social media including Twitter, Facebook and Google+ . Apps are a plenty, and finding the niche in the market place is every developers' goal, with ease of use for the user being another major focal point.
The claim by these developers may actually ring true for many people that, 'No matter who you are, Dice-ider will mean something to you, because it really is decisions made easy.' Dice-ider is available in ten different languages on both iTunes and Google Play for only $0.99 cents. To quote Luke Rhinehart writer of the cult classic The Dice Man 'Dealing dreams…to a pattern plagued world…Who am I to question the dice?'