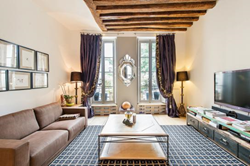 An estimated 25% of European vacationers and 12% US travellers now consider vacation rentals for a future trip, this is only expected to grow over the next few years
(PRWEB) November 03, 2014
AvenueStory is a fast growing vacation rental website operating the combined role of a managing company and a listing website. In today's sharing economy where the focus is on experiences and cultural connections, travellers search for an added value from their trips on more terms than just price.
By facilitating private accommodation bookings between hosts and guests and matching these with boutique in destination activities the company provides an integrated local experience.
The company introduces verified accommodations by local inspectors and a quality rating system similar to hotels and adapted to holiday homes. In addition, with the pop up hotel pack a home in Paris is serviced the same way as a home in Barcelona and its 2 way rating system supported by reviews and quality ratings ensures guests know what to expect ahead of time.
With current offices in Paris and London, the collection of homes is expanding daily from city centre apartments to ski chalets & villas across Europe and US. A differentiating factor for AvenueStory is its approach to working with travel agents.
AvenueStory founder, Irina Raileanu said "An estimated 25% of European vacationers and 12% US travellers now consider vacation rentals for a future trip, this is only expected to grow over the next few years. Guests expect more than a key and a bed."
Prices range from €195 eur / night for a quirky pied a terre in the centre of Paris to €1200 / night 3 bedroom fit for a family of 8 overlooking the Arc de Triomphe.
More options on http://www.avenuestory.com.