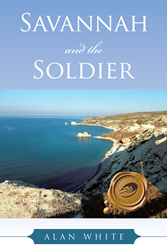 Conscience can, in the end, be overcome by love
PULHAM ST. MARY, England (PRWEB) November 05, 2014
Living in paradise is not always a blessing. As one expatriate learns while living in the Mediterranean, the land can become intoxicating.
Alan White's newest book, "Savannah and the Soldier" details the building tension of a relationship between a young woman and an older man. Opening themselves up to the idea of romance despite both of their marriages proves to be an explosive decision with fatal results.
"Conscience can, in the end, be overcome by love," said White.
White is a retired Royal Air Force pilot who spent 9 years living in Cyprus. His time there inspired him to write the story of Savannah. White has also written two other books about his time spent in the Royal Air Force. "Savannah and the Soldier," is his first fiction book and has received the Trafford Seal of Excellence.
"Savannah and the Soldier is a love story. Its setting is Cyprus, which legend has it that the goddess Aphrodite will give love to all who seek it," said White.
The two lovers face difficulties beyond their expectations, and an adventure they may not have asked for. With countless forces at work against them, they have to fight with all they have to save what may already be broken.
For more information, visit http://www.savannahandthesoldier.com/
Savannah and the Soldier
By Alan White
ISBN: 9781490716992
Available in softcover, hardcover, e-book
Available on Amazon, Barnes & Noble and Trafford Publishing
Alan White is a writer and a retired Royal Air Force pilot who currently resides in England. He lived nine years in Cyprus, the primary setting of "Savannah and the Soldier," and is in the process of publishing its sequel. He is also the author of "A Sojourn in Cyprus," and "Lightning Up."
**FOR IMMEDIATE RELEASE**
For review copies or interview requests, contact:
Jake Doll
317.602.7137
jdoll(at)bohlsengroup(dot)com