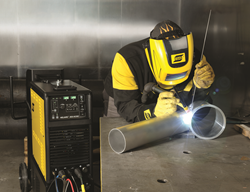 Florence, SC (PRWEB) November 03, 2014
ESAB Welding & Cutting Products will demonstrate its most rugged, portable welding and cutting equipment at the 2014 Specialty Equipment Market Association (SEMA) Show, November 4-7, 2014, at the Las Vegas Convention Center. At booth 21609, ESAB will also showcase Legacy Innovations' fully renovated 1937 Ford and feature the new Ultra4 class buggy of LetzRoll Offroad Racing, specialists in extreme offroad racing and fabrication.
The SEMA Show is the premier automotive specialty products trade event in the world. ESAB's "At the Core" theme highlights the products and solutions it delivers to impressive projects across the automotive industry – from monster trucks to custom choppers. Demonstrations will center on ESAB's proven solutions for the automotive specialty market.
High-quality AC/DC GTAW (TIG) and SMAW (Stick) welding will be demonstrated with the Heliarc® inverter-based welding machine. Heliarc, recognized as the first name in TIG, is enhanced with inverter technology, which delivers significantly increased energy efficiency and superior functionality in a machine that is lighter and smaller than old SCR technology machines and competitively priced versus other AC/DC inverters.
The versatility of Caddy® Mig C200i, a MIG/MAG welding machine for mild steels, stainless steel, MIG brazing and aluminum, and Caddy® Tig 2200i, designed for TIG welding in a range of materials, will also be showcased. These machines are among ESAB's most popular for their rugged, compact design, making them ideal for on-the-go repair, maintenance and assembly work.
ESAB's PowerCut® manual plasma cutting systems will also take the stage at SEMA. PowerCut is designed with ESAB's unique Plasmarc® technology to be more powerful and durable than any other machine in its class. PowerCut makes plasma cutting easier and more economical, delivering reliability and high productivity in a lightweight, portable unit perfectly suited for automotive specialty applications.
All five models of PowerCut machines – PowerCut 400, 700, 900, 1300 and 1600 – will be on display. The PowerCut family provides cutting capabilities from 3/8 inch (9.5 mm) up to 1.5 inches (38 mm) with severing capabilities from 1/2 inch (12.7 mm) up to 1.7 inches (44 mm).
In addition, ESAB will spotlight the work of Legacy Innovations with the unveiling of their custom-renovated 1937 Ford. ESAB equipment was key in completing the renovation work. Legacy specializes in chassis design and fabrication, body restoration and modification and provides services from building to renovation for custom, rare and exotic vehicles. Owner Troy Spackman and members of his team will be on hand at the ESAB booth to answer questions about the renovation project.
Visitors to the ESAB booth will also have the opportunity to meet Andrew McLaughlin of LetzRoll Offroad Racing and view LROR's new IFS (Independent Front Suspension) buggy. The Ultra4 desert racing team of LROR recently captured a Top 10 National Points finish (8th) in the Ultra4 Racing series, as well as a Top 10 at the 2014 King of the Hammers. The team depends on high-performance ESAB equipment for all its welding and cutting.
There's more! To keep the action going, ESAB will sponsor a SEMA Selfie Contest. With Legacy's 1937 Ford and the LROR Ultra4 buggy as backdrops, visitors can have their picture taken and added to ESAB's Facebook photo album, SEMA Selfie Contest. Participants may then tag and share their photo in the album and encourage their friends to like their picture for a chance to win. The photo with the most likes, along with one random participant, will each win a new top-of-the-line ESAB gas outfit!
For details about ESAB's exhibit at SEMA, visit http://www.esabna.com/sema2014.
ESAB Welding & Cutting Products is a recognized leader in the welding and cutting industry. From time-honored processes in welding and cutting to revolutionary technologies in mechanized cutting and automation, ESAB's welding consumables, equipment, and accessories bring solutions to customers around the globe. For more information, visit http://www.esabna.com or call 1-800-ESAB123.